Water transport shut as cyclone Roanu gets closer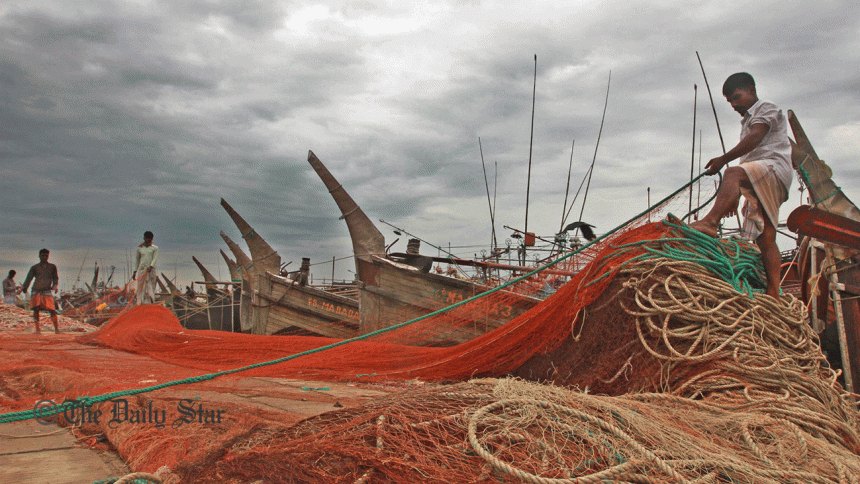 As cyclone Roanu moved inside a thousand kilometres near Bangladesh's coast, authorities have suspended water transport through the country until further notice.
Met office is optimistic that the cyclone will lose tempo, with heavy rainfall, as it approaches to make landfall through Chittagong-Noakhali coast by dusk tomorrow.
Meanwhile, coastal regions along the projected landfall site have been asked to hoist danger signal number 7. Cox's Bazar has been asked to hoist signal 6, while Mongla and Payra ports signal 7.
---
Chittagong port and coastal districts of Chittagong, Noakhali, Laxmipur, Feni, Chandpur, and their offshore islands and chars have been put under danger signal number 7.
---
Cox's Bazar port and coastal district of Cox's Bazar and its offshore islands and chars have been put under danger signal number 6.
---
Mongla and Payra ports and coastal districts of Bhola, Borguna, Patuakhali, Barisal, Pirozpur, Jhalokathi, Bagherhat, Khulna, Satkhira have been put under danger signal number 7.
---
At ports, waves upto five feet higher than normal are expected to hit with accompanying winds of maximum 90 kilometres per hour, Met office says.
---
Water transport was suspended at all routes since 5:10pm today for the cyclone, Joynal Abedin, joint director of Bangladesh Inland Water Transport Authority (BIWTA), told The Daily Star.
Alongside, heavy rainfall is likely overnight and tomorrow, Arif Hossain, an official of Bangladesh Meteorological Department, told The Daily Star assuring that precipitation (rain) weakens a cyclone.
Alongside, the government today scrapped all leaves and holidays of officials and staff of Roads and Highways Department in the country's coastal areas as part of its preparation for the cyclone.
Bridges Minister Obaidul Quader took the decision at a meeting held at his office. All staff and officials have been asked to remain alert to keep uninterrupted road communication in the coastal areas.