Ctg BCL man killed in factional clash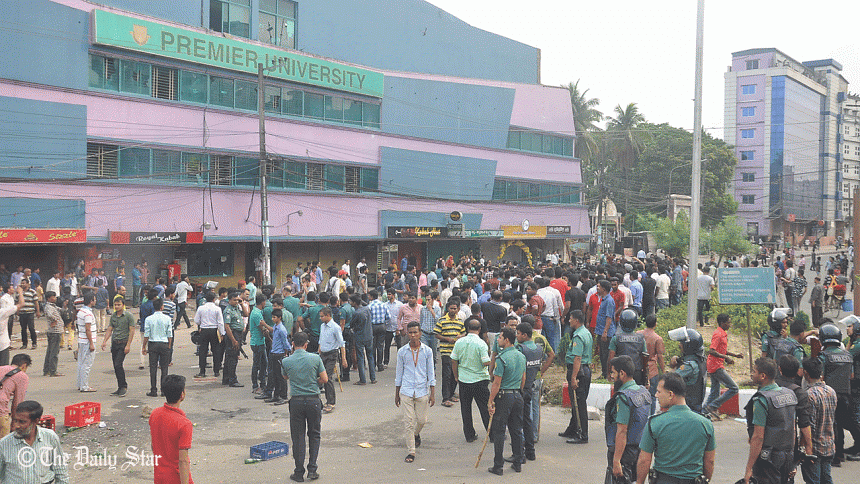 A private university student in Chittagong was killed today in a factional clash over arranging a farewell and reception programme, leading to closure of the university till Thursday.
The deceased, Nasim Ahmed Sohel was a member of city unit of Bangladesh Chhatra League and an MBA student of Premier University, reports our Chittagong correspondent.
The clash ensued over choosing the chief guest of a programme scheduled to be held on March 31, said Mayenur Rahman Mayen, a joint general secretary of BCL's port city unit.
Some students, seeking anonymity, said a group of students were rehearsing on the campus at WASA Circle of Dampara to perform in the farewell programme.
Suddenly, a group of rival students "loyal to Mohiuddin" entered there and locked into an altercation with them around 12:30pm, witnesses said.
The attackers started beating one Imran at that time, said the students. Later, Sohel was attacked when he protested the incident.
One of the attackers stabbed Sohel five times leaving him critically injured, said the students, adding that they also attacked other students with sharp weapons.
Sohel was rushed to Chittagong Medical College Hospital (CMCH) where he succumbed to his injuries around 2:30pm, said Nayek Abdul Hamid of CMCH Police Camp.
Two other students – Md Imtiaz and Roni Chandra Shil – were admitted to the same hospital, he added.
Contacted, Chittagong city unit Awami League President ABM Mohiuddin Chowdhury said he did not know anything about the incident.
"Even I have no idea about what kind of programme they were going to arrange. I just heard about the murder from media news."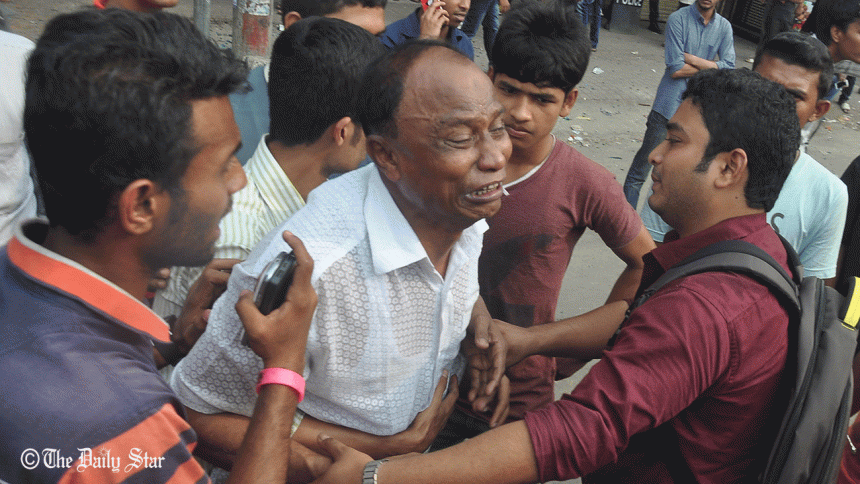 Contacted, Aziz Ahmed, officer-in-charge of Chawk Bazar Police Station, said they were investigating the incident.
"We have already started conducting drives in different areas to arrest the culprits," he said.
Fellows protest, vandalism
Nearly one thousand agitating students, mostly loyal to AL's city unit General Secretary AJM Nasir Uddin, also the city mayor blockaded Probarttak Intersection over the incident.
They chanted slogans against Mohiuddin and vandalised vehicles indiscriminately centring the incident.
They also blocked different roads of the port city, including Cement Crossing, Panchlaish, Khulishi, Poli Technic Institute area, Bayezid Bostami Road, Anderkillah, Bandar, Chittagong Medical College Gate, Gol Pahar Intersection, Akbar Shah Intersection, Sholashahar Gate No 2 and Wasa Intersection in connection with the incident, locals said.
Vehicular movement came to a halt in the areas following the blockades.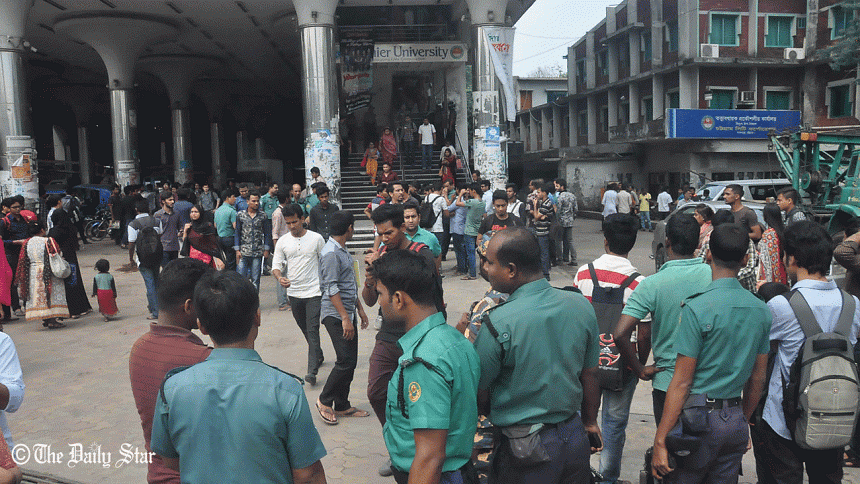 Mayor visits
Mayor Nasir visited the spot in the evening. Seeing the body, he told reporters that Sohel was a very good boy. "He came to me and requested me to be chief guest of their programme but I regretted as I had prescheduled programme," said Nasir.
"A quarter, using the banner of the party, is trying to tarnish the image of the party," he added, demanding capital punishment of the criminals.
The city mayor requested the agitating students to leave the roads considering the people's sufferings.
University closed
Meanwhile, Premier University authorities have closed the institution till Thursday over the murder.
Ahmed Razib Chowdhury, proctor of the university, confirmed it to The Daily Star this evening.
He claimed that protesting students damaged some 25-30 rooms of the university during their agitation.