Cotton farming gets popular in Teesta basin areas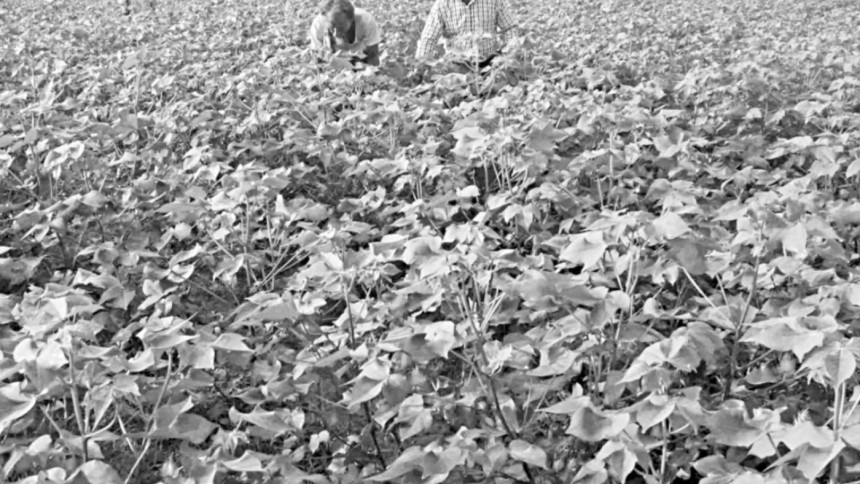 Cotton farming on vast char lands along the Teesta river basin areas in Sundarganj upazila of the district is gaining popularity as the local farmers are showing much interest in cultivating the item.
Encouraged by the higher prices of the item, the farmers of the area cultivated a vast area this season expecting a bumper cotton production.
Moreover, Cotton Development Board is motivating the farmers to use their fallow lands for cotton cultivation.
Cotton Development Board (CDB) officials said over 100 bighas of land in Belka, Tarapur, Haripur, Kapasia and Chandipur areas have been brought under cotton farming this season.
Of the areas, HSC-4 variety of cotton is cultivated on 40 bighas of land while CB-12 variety on the remaining land.
'I have cultivated cotton for the first time on seven bighas of land this season expecting an extra profit as the production cost of the item is very little,' said Dulu Mandal, a cotton grower of Khorda village.
'If I earn a windfall profit this season I would bring more lands under cotton farming next season,' said Hanif Mia of the same village.
Abdul Aziz Sarkar, an official of Sundarganj Cotton Unit, said high profit against low production and labour cost is inspiring the local farmers in cotton farming on fallow lands.
Adequate nursing of cotton plants and farmlands will produce better yield, Aziz said.
The high-yielding varieties are expected to offer 12 to 15 maunds per bigha this year, the official added.
Besides, farmers can extract oil from cotton seed which is used as ingredient for soap manufacturing, he said.
Rashedul Islam, upazila agriculture officer in Sundarganj, said if the production is satisfactory this year more areas will be brought under cotton farming next season.