Killing of lawman linked to recent murders: Home minister
Tells cops to be more cautious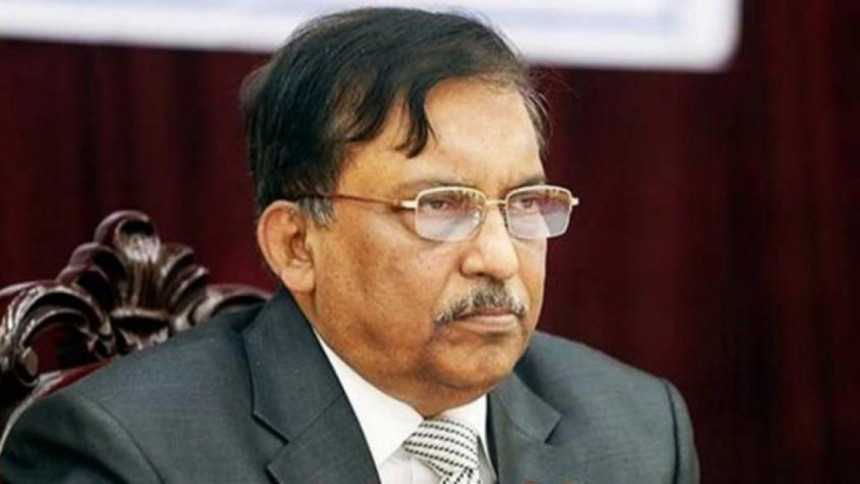 Hinting that the murder of a policeman in Ashulia is linked to the recent of killing and attacks, Home Minister Asaduzzaman Khan today asked lawmen to be more cautious.
"Today, police were caught off-guard. They must be more cautious while discharging their duties," the home minister said in a press conference at Savar this morning.
The minister's warning bell came at a time when intelligence agencies have raised security warning ahead of two imminent verdicts of top war criminals BNP leader Salauddin Quader Chowdhury and Jamaat-e-Islami leader Ali Ahsan Mohammad Mojaheed.
READ MORE: Terror alert in country
After the recent attacks on two publishers that left one dead on October 31, an industrial policeman was killed and another injured in an attack carried out by miscreants on a patrolling team of lawmen today.
READ MORE: Cop killed in attack on Ashulia police
Also, in Brahmanbaria last night, a patrolling police team came under gunfire.
"I think that all these incidents are linked," he told reporters while answering a query on whether the killing of this policeman had anything to do with the recent murder and attacks.
"They are all the same, sometimes carrying out subversive activities under the name of Ansarullah, sometimes JMB and sometimes IS (Islamic State)," he said. "Their patronizers are the same."
The minister, who repeatedly assured that the situation of the country is "stable", told reporters that the police force is maintaining strong vigilance across the country.
On the note of what the police force will do now, the minister said that relevant instructions will be given to the law enforcers by the inspector general of police soon.
The minister was speaking at a press conference after visiting the injured policeman of Savar attack at Enam Medical College Hospital.