IS claims Hossaini Dalan bomb attack: SITE Intel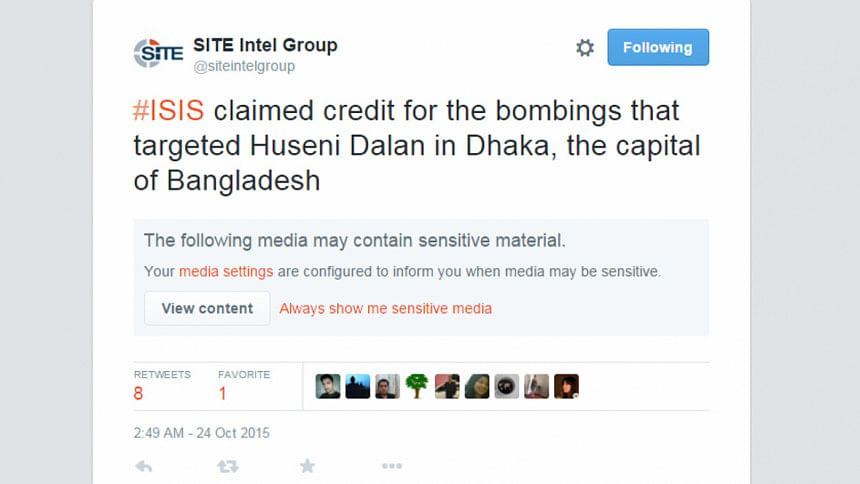 Terrorist outfit Islamic State (IS)has claimed the responsibility of bomb attacks on Hossaini Dalan, the headquarters of Shiite Muslim group in Bangladesh capital – Dhaka, US-based SITE Intelligence Group said today.
The bombings, which took place hours before the Shias were scheduled to bring out a procession marking holy Ashura, left a 14-year-old boy dead and injured 87 injured early today.
Members of Shia community were gathering at the building for  a traditional Tajia procession planned to be brought out from there. The day marks the martyrdom of Imam Hussain, grandson of Prophet Muhammad, and the Shia community has been observing the day for centuries. But it is the first time that they have come under such an attack in Bangladesh.
SITE Intelligence Group, a for-profit Maryland-based company that tracks online activity of White supremacist and jihadi organisations, had earlier reported that said IS claimed the responsibility for the murders of two foreign nationals in Bangladesh – Italian Cesare Tavella and Japanese Kunio Hoshi.
The Tweet was posted around 4:00pm Saturday afternoon, nearly 14 hours after the bombings took place in Huseni Dalan – the holy gathering place for Shia Muslims in Dhaka.
READ ALSO: It's BNP-Jamaat's doing, Hanif says
The explosions were caused reportedly by handmade crude bombs, thrown into the Shia gathering around 1:30am Saturday. Some unexploded bombs were also seen lying at the scene.
The attack was premeditated, Home Minister Asaduzzaman Khan suspects. He hoped to catch the culprits through close circuit camera footages.
Police, meantime,  formed a three-member probe committee to investigate the incident.
READ MORE: BNP for impartial probe
STRING OF IS ALARM FROM SITE INTEL GROUP
Though the group has repeatedly raised alarms of presence of Islamic State in Bangladesh, the government high-ups have ruled out the terrorist outfit's existence in the country.
Home Minister Asaduzzaman Khan was visited by envoys of US, UK, Australia and Canada a few days ago where the official again assured of IS' absence in Bangladesh.
The minister said he insisted all the envoys to share any intelligence regarding any possible threat. He old the media, "They could not give any specifics."
Khan told the media that the foreign envoys were "satisfied" with the stepped up security measures taken. However, they remained fearful of "credible threat" in Bangladesh.
UK, AUSTRALIA UPDATE TRAVEL ALERT
The UK and Australia have updated travel warnings for their citizens in Bangladesh after the attack.
"Current advice to keep a low profile in all public space remains," the UK government told its citizens citing the Huseni Dalan attack.
"There is high threat from terrorism. Further attacks may occur."
The Australian government asked its citizens in Bangladesh to travel only by vehicle for the time being.
"This restriction is in addition to our ongoing advice to staff to limit their movements in public places, including locations frequented by foreigners."
It recommended that Australians adopt similar security measures. "The level of advice has not changed. You should exercise a high degree of caution in Bangladesh."