CPJ demands journo Probir's release
Committee to Protect Journalists calls upon the government to release journalist Probir Sikdar immediately.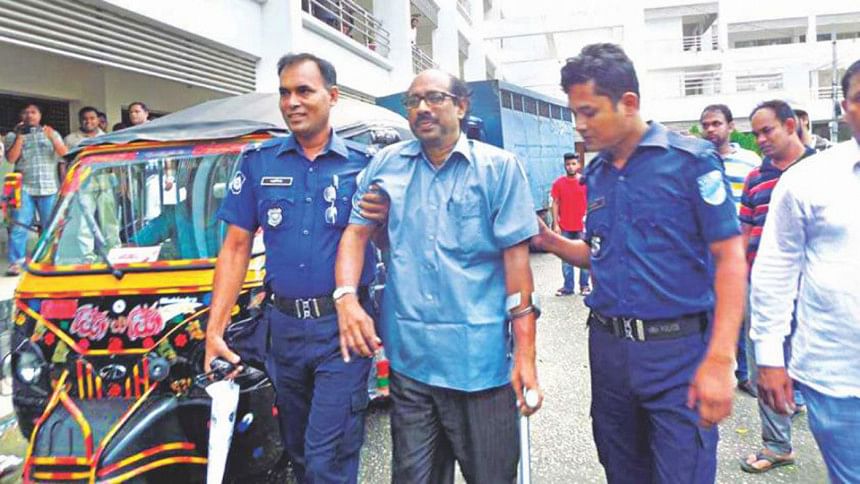 The Committee to Protect Journalists (CPJ) today called upon the government to release journalist Probir Sikdar immediately.
"Bangladeshi authorities should immediately release Probir Sikdar, an editor who was arrested on Sunday," said CPJ, an independent, nonprofit organisation that works to safeguard press freedom worldwide in a report published on their website.
Local Awami League leader Swapan Kumar Paul filed the case on Sunday after Probir said his life was under threat and that the minister Khandaker Mosharraf Hossain, businessman Moosa bin Shamser and condemned fugitive war criminal Abul Kalam Azad would be responsible if he were killed in a Facebook post, police said.
A Faridpur court yesterday sent journalist Probir Sikdar to jail in a case under Information and Communication Technology Act, for "tarnishing the image" of LGRD Minister Khandaker Mosharraf Hossain.
The CPJ report further said that Khandaker Mosharraf Hossain's office did not immediately respond to CPJ's emailed request for comment.
"Jailing journalists for publishing threats made against them further undermines confidence in Bangladesh's legal system," said CPJ Asia Program Research Associate Sumit Galhotra. "We call on authorities to immediately release journalist Probir Sikdar and investigate the threats against him."
The official complaint against Sikdar was filed under section 57 of the Information and Communication Technology (ICT) Act, which regulates Internet use in the country. Section 57, which has often been used against journalists, criminalises any information published on websites that "encourages dishonesty, offends anyone, or tarnishes the image of the state or any person," read the CPJ report citing news accounts.
Journalists have been under heightened pressure from authorities when reporting critically on authorities, CPJ noted in the report.
The non-profit organization also added that the harassment of journalists comes as bloggers in the country face death threats from Islamist groups.
In the past six months, four bloggers were hacked to death, most recently blogger Niloy Neel who was murdered at his apartment on August 7. CPJ noted the similarity of accusations against the police of not recording allegations of threat in both cases.
Probir, editor of Bangla daily Bangla 71 and online news portal u71news.com, was picked up by detectives on Sunday evening from his office in the capital.
Police first said they took him to the DB office to "discuss" the threats he was under as he claimed in his Facebook post. Later around midnight, they admitted to have arrested him in the case filed with Faridpur Sadar Police. 
Police produced the journalist before the Chief Judicial Magistrate's Court in Faridpur, seeking a 10-day remand. But the court sent Probir, 55, to prison and may hear the remand petition today, court sources said.
The arrest of Probir, who lost his father and several other family members during the Liberation War, sparked huge protest on the streets and also in social media.
The senior journalist wrote a series of reports titled "Sei Razakar" in Bangla daily Janakantha in 2001 against some alleged war criminals, including a controversial businessman from Faridpur and the now condemned war criminal Abul Kalam Azad, also known as Bacchu Razakar, according to a draft GD that he posted on Facebook after police allegedly refused to record it.
He was attacked in April 2001 following his write-ups. In the attack, he lost a leg and also strength and mobility of one hand.
Meanwhile, legal experts have raised questions over the filing of the case.
"Under the ICT law, only the aggrieved person can lodge a case. There is no scope for any third party to file a suite," Supreme Court lawyer Jyotirmoy Barua told The Daily Star
Contacted earlier in the evening, Swapan Kumar Paul, also assistant public prosecutor of Judge's Court in Faridpur, said, "I have filed the case as Khandaker Mosharraf is our leader and his image has been tarnished through the Facebook post."
But Prabir's son Suprio said Khandker Mosharraf held his father responsible after Hindu Buddha Christian Oikya Parishad alleged that the minister and some ruling party lawmakers were grabbing properties of religious minorities.
He claimed the LGRD minister was outraged by a number of Facebook posts by his father. 
"The case against my father and his arrest are linked with those incidents…. I sent my mother and younger brother to Faridpur but I am staying back in Dhaka because some well-wishers have warned me of possible danger waiting for me there," he said.
However, talking to the BBC Bangla Service, Khandker Mosharraf said he was surprised to know that Probir mentioned his name in a Facebook post saying that his (Probir's) life was under threat.
"It's a matter of Faridpur. Who is doing what in Faridpur … it's only for them to know. I've no idea about it. The allegation against me is nothing but lunacy of an insane person…it's plain and simple insanity."
The minister also claimed he had no conflict with Probir Sikdar.