City polls not credible: EWG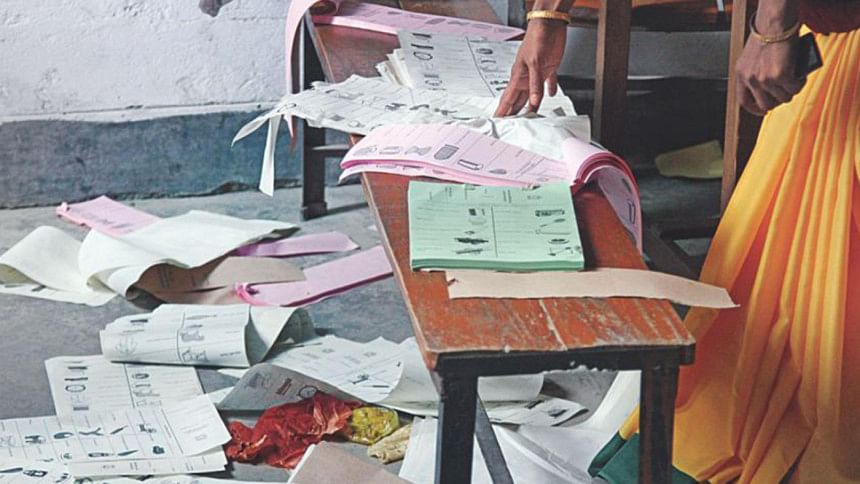 The Election Working Group (EWG), a non-partisan network of 28 leading civil society organisations in Bangladesh, said the city corporation elections are not credible due to malpractices and irregularities.
"The elections were marred by a significant level of electoral fraud and violence. Based on the extent of malpractice and irregularities observed, the EWG evaluates these elections to be not credible," the group said.  
In a preliminary statement on the three city corporation elections published today, the EWG said despite adequate polling operations in many of the stations observed, the integrity of the overall process was undermined by the scale of violations observed.
It also said the transparency of the process was damaged by the significant hurdles observation groups faced in receiving accreditation and deploying observers.
In the statement, the EWG said among the polling stations observed, police were deployed at all polling stations, 79 percent of the stations were found to be prepared with necessary equipment, while 90 percent were opened on time.
Problems with accessibility and poor layout of polling booths were reported in 24 percent of observed polling stations of Dhaka South City Corporation (DSCC), 39 percent in Dhaka North City Corporation (DNCC) and 19 percent in Chittagong City Corporation (CCC).
Protests or objections by polling agents during vote counting were reported in 12 percent of observed stations in DSCC, 5 percent in DNCC and 21 percent in CCC, while the hanging of poll results as required by law was not undertaken in 14 percent stations observed across the three city corporations.
In the report, the EWG also mentioned that their observers reported incidences of intimidation of voters in 33 DSCC polling centres, 39 DNCC centres and 30 CCC centres; ballot stuffing in 55 DSCC centres, 46 DNCC centres and 37 CCC centres, violence in 66 DSCC centres, 26 DNCC centres, 72 CCC centres; polling station declared closed in 21 DSCC centres, 6 DNCC centres and 31 CCC centres; polling agents removed from polling stations in 24 DSCC centres, 19 DNCC centres and 31 CCC centres; arrests within station in 2 centres in each city corporation.
Meanwhile, 26 EWG observers (DSCC-15, DNCC-6 and CCC-5) were not allowed to enter into polling stations on the Election Day, 37 observers were ousted from polling stations, and 138 were not allowed to observe the counting, the statement said.
The EWG also claimed that the Election Commission had issued instructions that restricted observer movement to particular wards in Dhaka south.
Since its establishment in 2006, the EWG has observed elections at the national, city and local levels. It has also conducted advocacy activities on election-related issues as well.