Charges against Kamaruzzaman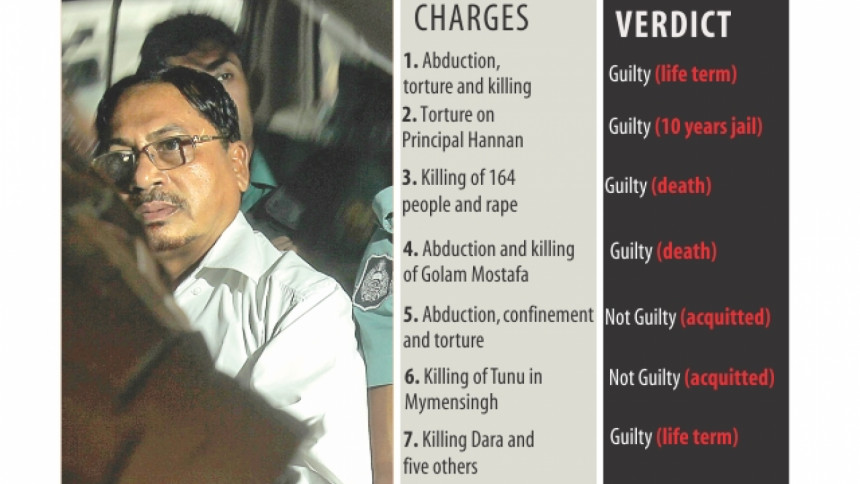 The International Crimes Tribunal-2 found Jamaat-e-Islami leader Muhammad Kamaruzzaman guilty on five, out of seven war crimes charges.
The tribunal sentenced him to death in two charges, life imprisonment in two other charges and 10 years' imprisonment in one charge.
CAPITAL PUNISHMENT
He was awarded capital punishment for advising members of Al-Badr and Razakar forces on July 25, 1971 to commit a large-scale massacre in association with Pakistani troops in Sohagpur village of Nalitabari upazila in Sherpur.
The collaborators murdered 164 unarmed civilians, 44 of whom have been named, and raped many women. So many men were killed in the attack that later on Sohagpur became known as Bidhoba Palli (village of widows).
On August 23, 1971, on Kamaruzzaman's instructions, collaborators took Golam Mostafa of Gridda Narayanpur village in Sherpur to an Al-Badr camp. Kamaruzzaman and his accomplices brought Mostafa and one Abul Kasem to Serih Bridge and gunned them down.
Kasem survived jumping into the river but suffered injuries in his fingers. Mostafa died on the spot.
The court found him guilty in this charge and handed down death penalty to him.
The tribunal in its order said Kamaruzzaman be convicted and condemned to a single sentence of death for these two crimes. 'He be hanged by the neck till he is dead' as per the International Crimes (Tribunals) Act, 1973.
LIFE IMRPISONMENT
On June 29, 1971, under the leadership of Kamaruzzaman, a group of Al-Badr members abducted Badiuzzaman of Ramnagar village under Jhenaigati upazila in Sherpur. He was tortured at Ahammed Nagar army camp all night and was shot to death the following day.
On Ramadan 27, Kamaruzzaman accompanied by 15-20 armed Al-Badr members abducted one Tepa Mia and his elder son Zahurul Islam Dara from Golapjan Road in Mymensingh. They were taken to the Al-Badr camp at District Council Bungalow. The next morning, the father and son along with five others were lined up and shot on the bank of the Brahmaputra river. Tepa Mia managed to escape by jumping into the river, but the other six were killed on the spot.
The tribunal awarded him "a single sentence of life imprisonment" for the offences.
10 YEARS IN ONE CHARGE
In mid-May, 1971, Kamaruzzaman and his accomplices inflicted inhumane torture on pro-liberation intellectual Syed Abdul Hannan, the then principal of Sherpur College, by compelling him to walk naked through the town under constant whipping.
The tribunal awarded him 10 years in prison for the crime he committed.
ACQUITTED OF TWO CHARGES
In mid-Ramadan of 1971, Kamaruzzaman and his followers allegedly picked up Liakat Ali and Mujibur Rahman Panu from their respective houses and took them to a Razakar camp and tortured them there. After four days of detention, on Kamaruzzaman's alleged order, the two along with 11 other civilians were moved to Jhenaigati Ahammed Nagar army camp. Afterwards, 10 of them were shot dead. The accused and his aide Kamran were present during the alleged shooting.
In November 1971, under the alleged instruction of Kamaruzzaman, some members of Al-Badr abducted Tunu and one Jahangir from Golki Bari and took them to the District Council Bungalow in Mymensingh. Tunu was tortured to death. Jahangir was detained but was freed later.
The tribunal acquitted Kamaruzzaman in the two charges as prosecution failed to prove the allegations against him.