Charges pressed against 2 'war criminals'
Two Narail men shown arrested in war crimes case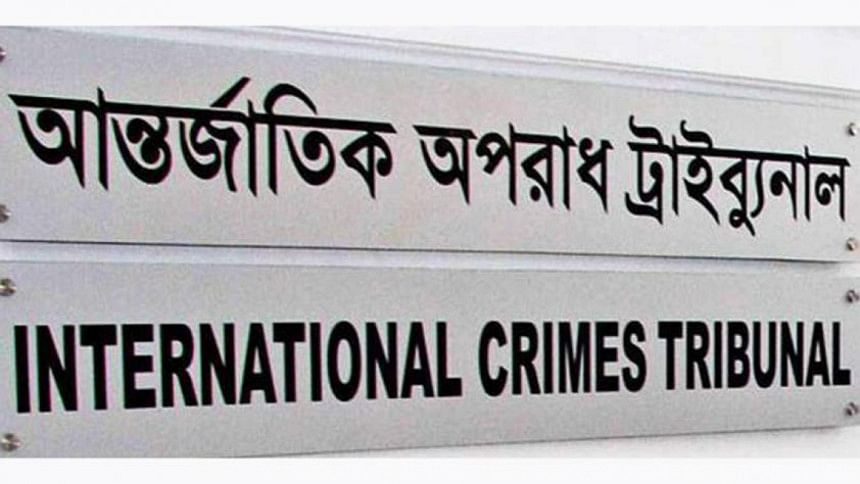 The prosecution today pressed seven specific charges against two men including a former leader of Habiganj Awami League for their alleged involved in crimes committed during the Liberation War in 1971.
Prosecutor Rana Dasgupta submitted the formal charges against Liakat Ali, 61, former president of Habiganj's Lakhai upazila unit Awami League, and Aminul Islam alias Rajab Ali, 62, of Astogram upazila in Kishoreganj, through the registrar office of the International Crimes Tribunal.
Upon receiving the formal charges along with statements of prosecution witnesses and other documents, International Crimes Tribunal-1 fixed May 18 to decide whether it will take the charges into cognisance.
On December 27 last year, the tribunal's investigation agency completed the probe against them and said to have found their involvement in seven incidents of wartime crimes.
According to the investigation agency, Liakat, a college student in 1971, son of Khelu Mia of Lakhai, was involved with Muslim League along with his maternal uncle.
During the war, Liakat's uncle became chairman of Fandauk Union Peace Committee, an anti-liberation organisation, in bordering Brahmanbaria's Nasirnagar upazila and at the same time led the union's Razakar Bahini, the agency said.
Liakat committed the crimes with assistance from the Pakistani army, went into hiding after the war and later got involved with AL, said the agency, adding that he was now believed to be staying in the US.
Liakat was the incumbent chairman of Morakari union and they "had no information" on whether he had been expelled from the AL. He went into hiding when investigations began on November 5, 2014, it added.
Aminul, son of Abdul Goni Munshi of Astogram, was president of Jamaat-e-Islami's then student wing Islami Chhatra Sangha's Hazi Hasmat Ali College unit in 1970 and formed Al-Badr Bahini with Chhatra Sangha men in 1971, according to the agency.
He committed atrocities in association with Pakistani army and his force. Freedom fighters caught him at the end of the War, the agency said.
Three cases were filed against him under Collaborator Act-1972 and he was given life sentence but got released in 1981 after the political changeover, it added.
"The self-proclaimed criminal" even wrote a book titled "Ami Al-Badr Bolchi" after his release, the agency said.
The seven criminal incidents they were found to have been involved in are looting and killing of 43 Hindu men in Krishanpur in Lakhai, killing of nine Hindu men in Chandipur in Lakhai, killing of 26 Hindu men in Gadainagar in Lakhai, killing of eight Hindu men in Sadanagar village in Lakhai, killing of Rangu Mia in Nasirnagar, killing of five men in Sabiyanagar in Astogram, and killing of 10 other men in the same village.
Meanwhile, the tribunal shown two Narail men arrested in a war crimes case filed for allegedly committing crimes during the Liberation War in 1971.
The three-member tribunal led by Justice Anwarul Haque took the decision following a prosecution's petition.
The accused are: Abdul Wahab 70, of Fulsar village and Omar Ali Sheikh, 60, of Barasula village in Narail Sadar Upazila.
Prosecutor Rezia Sultana Chaman told the tribunal that the two are now in Narail jail following their arrest in two separate cases filed under Special Powers Act-1974.
The investigation against the duo started on March 21 this year and the investigation officer has already found their involvement in two incidents of killings committed in 1971.
They need to be shown arrested in the war crimes case and kept in jail; otherwise they may be released on bail and will go into hiding, said Chaman.
The tribunal allowed her prayer and fixed May 18 for passing next order in the case