Attack on Asaduzzaman Noor's Motorcade
Case not ready for trial in two years
Families of murder victims worried as main accused still scot-free, attends workplace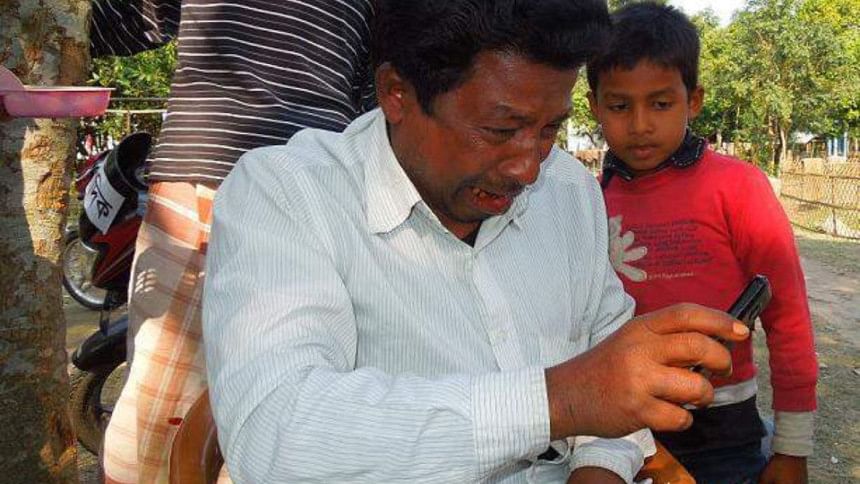 Families of the four people killed by Jamaat-BNP activists in an attack on the motorcade of lawmaker Asaduzzaman Noor at Ramganj Haat of Tupamari union in Nilphamari Sadar upazila have expressed worry as the case for the brutal incident is yet to be ready for trial in two years.
Meanwhile, the prime accused of the case has remained scot-free.
Jamaat-BNP men on night of December 12 in 2013 set fire to 200-250 houses of Hindu families in Polashbari, Tronibari, Laxmichap, Beltoli and Kachhari villages in Sadar upazila, looted valuables and injured many with sharp weapons, apparently to vent out wrath after the execution of Abdul Kader Molla, Jamaat's assistant secretary general, for crimes against humanity.
The then Awami League (AL) lawmaker Asaduzzaman Noor (now also minister for cultural affairs) reached Nilphamari from Dhaka, and went to the villages with a motorcade on 14 December morning.
In the afternoon, when Noor with his entourage came to Ramganj Haat on the way to Nilphamari town, several hundred Jamaat-BNP men equipped with sharp weapons attacked them, leaving killed four people -- Khorshed Alam, president of Tupamari union unit of Kishok League, Farhad Hossen, office secretary of union Jubo League, and activists Murad Hossen and Lebu Mia.
Around 70-80 motorbikes of AL activists were either burnt or looted during the incident.
Regarding the matter, two cases were filed and investigation officer submitted charge sheet to the Chief Judicial Magistrate's Court in the second week of July 2015, accusing 217 Jamaat-BNP men and the court issued arrest warrant against all.
Police arrested 56 accused from different areas of the district.
All of them got bail from the High Court and now moving freely.
In second and third week of November, 77 fugitive accused surrendered to court that ordered sending them to jail.
Their prayer for bail is now pending with the High Court.
Meanwhile, prime accused of the case Khairul Anam, ameer of Sadar upazila Jamaat, who is also lecturer of Kishoreganj Degree College, attends the workplace regularly and draws salary every month.
Expressing frustration over the matter, victims' family members said President of the college governing body Shawkat Chowdhury, Jatiya Party lawmaker from Nilphamari-4 constituency and opposition whip in parliament, has continued approving the salary sheet of the warranted accused.
Contacted, Shawkat Chowdhury said, "I'm not aware of the matter as law enforcement agencies did not send any letter to the college authority regarding it."
"Lawmaker Shawkat Chowdhury's argument is unacceptable as the brutal killings shocked the whole nation and name of the prime accused in the charge sheet was published in most of the print and electronic media," said Nazmul Huq Shah Faruk, father of victims Farhad Hossain and Murad Hossain.
He expressed frustration, saying that the case is yet to be sent to the District and Sessions 'Judge's Court from the Chief Judicial Magistrate's Court for trial although long two years has already passed.
Rashed Chowdhury, brother of deceased Khorshed Chowdhury, appealed that the case be tried under Speedy Trial Act.
The public prosecutor of Nilphamari said the case will be transferred to the District and Sessions Judge's Court very soon after maintaining the legal procedure.