Brick kilns on farmland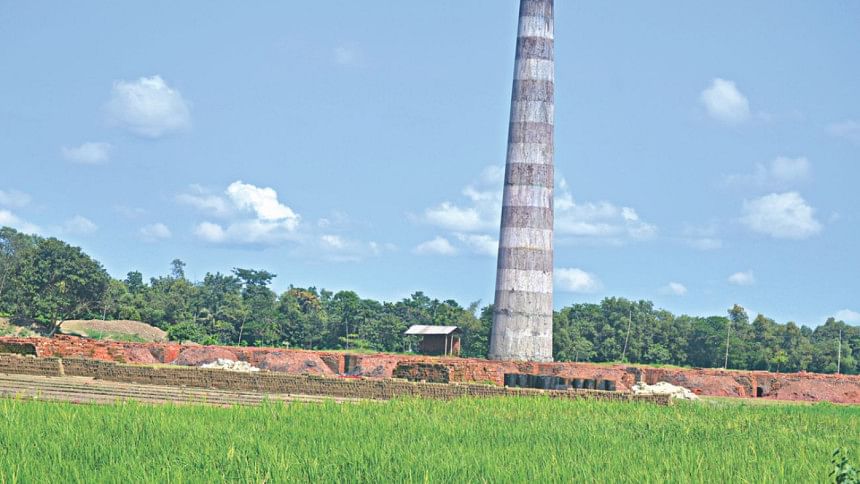 The government has banned setting up of brick kilns near cropland, human habitation and forest, but some influential people in the district are violating the law and setting up kilns near farmland and human habitations.
According to Burning of Bricks (control) Amendment Act 2010, setting up brick field within three kilometres of farmland, forest, township and human habitation area is illegal, but some influential people have done so in the district.
On a visit along Barlekha-Kulaura-Shamsernagar-Kamalganj road recently, this correspondent saw 15 brick kilns set up on farmland.
Farmers of Koterkuna area in Kulaura upazila said the brick kiln owners are very powerful and put pressure on farmers to sell their lands to them. Crops on land adjacent to brick kilns are badly affected and the land becomes infertile, they added. 
M/S Monu Brick Kiln was set up on five acres of land in Tilagaon village. Its manager Mithu Chakrabarty said the owner set up the kiln there as the site is beside the road, which is convenient for transportation. The land belongs to the kiln owner, he added.
Forum of Environmental Journalists of Bangladesh General Secretary Md Nurul Mohaimen said 90 percent of the brick kilns in the district have been set up on agricultural lands.  
Many brick kiln owners are putting pressure on him to sell his land to them, Mohaimen said, adding that locals do not dare to raise their voices against them because they are very powerful.
Coordinator of Bangladesh Environmental Lawyers Association (BELA) in Sylhet division Shaheda Akther said many people are setting up brick kilns illegally. 
The environment will be severely damaged as brick kilns have been established on farmlands near human habitation, she said, adding that local administration should take immediate steps to keep the environment free from pollution.
Sylhet Department of Agricultural Extension Deputy Director Mohammad Shahjahan said paddy production will decrease if brick kilns are set up on agricultural land.
Kulaura Upazila Nirbahi Officer Chowdhury Mohammad Golam Rabby said the deputy commissioner's (DC) office can give permission to set up a brick kiln.
Director of the Department of Environment in Sylhet Md Salahuddin Ahmed said they do not give permission but only issue environmental certificates for brick kilns.
DC Tofail Islam said they will take necessary steps if anyone violates the law.