Boy abducted from Bogra rescued in Barisal
Kidnapped Jhenidah trader traceless for 52 days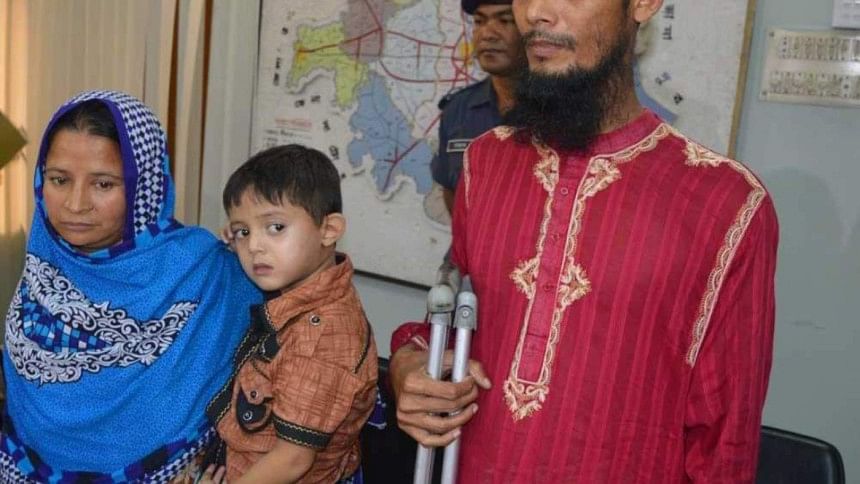 A three-year-old boy, abducted from Bogra town on February 10, was rescued form Natun Bazar area under Barisal Sadar  upazila on Tuesday, according to our correspondent.
The boy was identified as Talha, 3, son of Sajedur Rahman, muazzin of Akashtara Mosque in Bogra town.
Police said the parents of the abducted child saw a boy weeping on the road near their residence. The boy said his name was Helal Khan, alias Lal Chan, and he was 17 years old. He added that he was from Barisal and that there was no one to care for him.
He was given shelter by the poor parents of Talha. On February 10, he abducted the minor child when there was no one in the house, and took him to Barisal, police added.
Following the missing of Talha, his father lodged a general diary with Sadar Police Station in Bogra on February 11, 2015.
Aslam Hossain, sub-inspector of the police station and the investigating officer (IO), started investigating the matter.
At one stage, Aslam Hossain met some children who had returned from Jessore Children Correction Centre in the first week of July. They told him that a detainee of the centre had come to Bogra and might have committed the crime.
The IO went to the centre in August and found Helal there. He interrogated Helal and took his picture. He showed the picture to Talha'a father, who identified Helal.
Later, on information, police rescued the abducted child from a hotel owner's house at Natun Bazar area under Sadar upazila of Barisal district on Tuesday night.
Away in Jhenidah, a trader, abducted from Harinakundo upazila in Jhenidah 52 days ago, still remains traceless, reports our correspondent.
The victim is Nazir Biswas, 55, of Narayankandi village of the upazila. He is a rice trader.
His son Ashraful Islam said a land-related case among his family is under trial. He said his father went to Jhenidah for appearing before the court on July 13. He was abducted from near a brick kiln at Chandpur village in the upazila while returning home.
On the same night at around 9:00pm, the abductors phoned Ashraful and demanded Tk 5 lakh ransom.
As Ashraful failed to pay Tk 5 lakh the abductors again phoned him on July 14 and handed over the mobile to his father. Ashraful understood that his father had been tortured for ransom.
When they did not get the money, the abductors told Nazir on July 22 to talk to his son for the last time. 
Ashraful added that he filed a GD on July 13 with Harinakundo Police Station. An abduction case was lodged with the same police station on July 23. A man has been arrested in this connection, but Nazir has not been found as yet.