Boro seedbed preparation uncertain
Hakaluki Haor farmers worried as the land is still under floodwater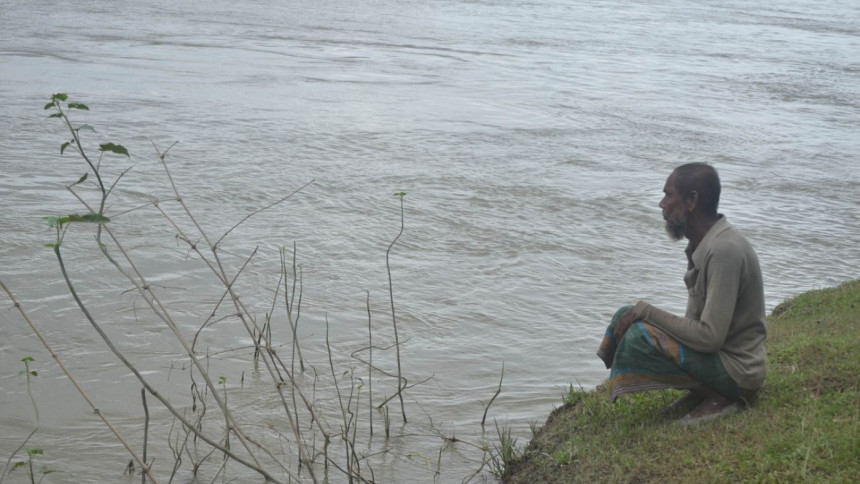 Farmers of Hakaluki Haor area in Kulaura upazila of the district are idle as the land is still submerged by floodwater, preventing preparation of Boro seedbeds.
On Friday, this correspondent visited Kurbanpur, Uttara Sadipur, Gaurkaran, Madangauri, Bhukshimoil, Shasarkandi, Bardal, Bhukshimoil and other areas under Bhukshimoil union and saw that the haor was still submerged by water.
Intiaj Mia, 38, a farmer of Uttara Sadipur village, said they usually prepare seedbeds in the first week of Bangla month Kartik. Last year, they could not get any Boro paddy as water covered the whole area, he said, adding that he did not want to cultivate Boro anymore due to the loss he suffered.
Fayzur Rahman said he has 10 bighas of land, but cannot cultivate it. No one in the union has sown seeds yet, he said, adding that saplings could normally grow two to three inches long in this time.
Zakir Hossain of Joychandi area said he was thinking of sowing seeds last week but the water level rose again, so he could not plant the seeds.
People's representatives and agricultural department officials said Hakaluki Haor was flooded due to heavy rains and surge of water from the hills since April. Farmers said they made some Boro crops seedbeds, but those are still under water.
Farmer Shahab Uddin of Bhukshimoil village said they are passing lazy time during the peak season as the seedbeds are still under water.
Bhukshimoil Union Parishad Chairman Azizur Rahman said 2,500 farmers of the union will be given five kg seeds, 30 kg of fertilizer and Tk 1,000 each as incentive.
Sub-assistant Agriculture Officer in the union Kanai Lal Sarkar said 2,900 hectares of land have been targeted for Boro cultivation in the union. Due to inundation, there will be problems in planting BRRI-29 rice, but there is still time for planting the BRRI-28 variety.
District Department of Agriculture Extension (DAE) Deputy Director Mohammad Shahjahan said the area under Boro cultivation is 11,400 hectares in Kulaura, Juri and Barlekha upazilas.
They advised farmers not to cultivate BRRI-29 variety rice in the haor area as it ripens late (in late April), while BRRI-28 ripens in the first week of April, he said, adding that BRRI-28 will be sown between November 15 and November 30.