Failure to stop bloggers' killers frustrates people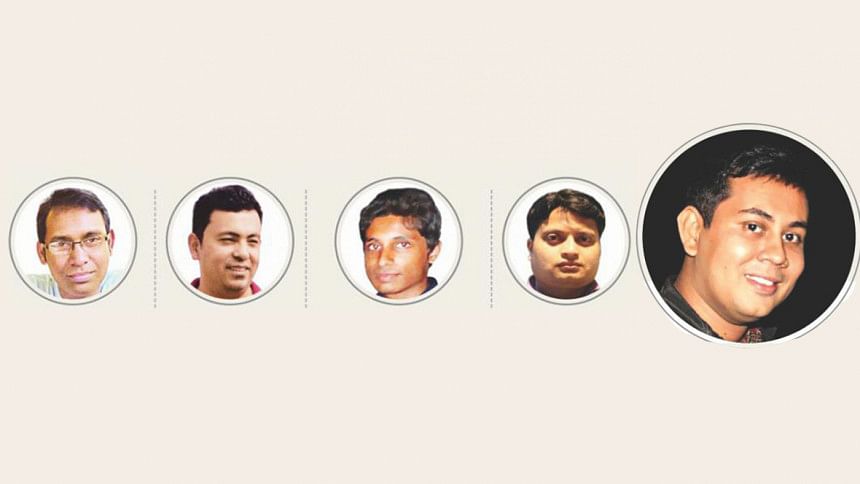 The simple last sentence of Niladri Chattopadhyay Niloy's Facebook status where he pointed out a policeman's advice to leave the country at the earliest seems to summarise the grave situation every free and secular thinker might find themselves in.
With the fifth murder of a blogger spreading a wave of frustration among the general public, The Daily Star talked to people on the Dhaka University campus today to know what they were thinking about the situation.
There was a unanimous denunciation of the killings and attacks on free speech. They vented their frustration stemming from the lack of response from law enforcement agencies and the fact that no-one has received any punishment for any of the five blogger killings.
Seeking to remain anonymous, a journalism student said, "A few days back another blogger friend of mine received threats from anonymous people for his writings on his blog and social media."
Talking to The Daily Star, two activists of Bangladesh Chhatra League, the student front of ruling Awami League, expressed similar opinion.  "We are against these killings of bloggers. But talking about this in public might put us at risk," one of them said.
The government has remained largely inactive, a student said. "May be they will do something about it if more killings occur and there is a more widespread public condemnation."
Condemning the murder, one of another group of students who were gathering at Curzon Hall said, "None of us can support these killings. If the bloggers' writings offend anyone, violence and killing is not the way to deal with it."
There was a prevalent feeling that there was a lack of security due to what they termed government inaction.
Niloy's murder was the fourth of such murders targeting bloggers in the last six months, but progress of investigation to punish the killers has been little or none.
"What can we do if the government doesn't come forward promptly to bring the criminals to justice?" one student said requesting anonymity.
The alleged refusal of the police stations to record Niloy's general diary has further added to the public frustration. Ananta Bijoy Das, who was killed on May 12, had applied for a Swedish visa fearing for his security but was denied.
General consensus seems to be that the country is unsafe for free speech. Writer and blogger Avijit Roy who was killed on February 26, met his fate days into setting foot back into Bangladesh.
Ananya Azad, son of noted writer and intellectual Humayun Azad who was fatally attacked by extremists near Bangla Academy on February 27, 2004 for similar reasons, left the country for Germany after receiving death threats from Islamist extremists.
The response from the police and government though has been defensive.
Amidst outcry on social media and condemnation from rights groups and other countries, the police on Friday evening denied claims that Niloy was not allowed to file a GD.
Speaking to reporters about the issue today, Muntasirul Islam, deputy commissioner (media) of Dhaka Metropolitan Police (DMP) told reporters, "We will take necessary steps if any negligence on behalf of the law enforcers on registering a general diary (GD), alleged in a Facebook post by Niloy, are found."
All departments including detectives and special units were working to find the culprits, he added.
On Ansar Al Islam's claiming the responsibility for the murder, the officer said there were two aspects to the matter. One is technical – authenticity of the email, and the other, the existence of such a group, he said.  
Niloy's wife Asha Moni filed a murder case against four anonymous assailants with Khilgaon Police Station Friday night.
Several arrestees are now undergoing trial in connection with the murder of Rajib Haider, who was killed on February 15, 2013. But little progress has been seen in the other four cases, which has added to the growing sense of insecurity.