Biman gets 2 aircraft for domestic operation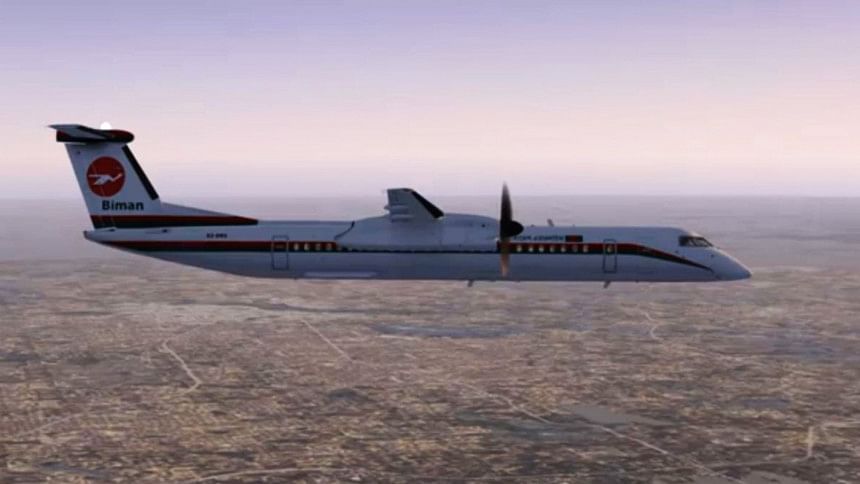 Two turbo-prop Dash 8-Q 400 aircraft that Biman Bangladesh Airlines leased to resume its domestic operation arrived in Dhaka this afternoon.
The aircraft will jump into commercial service on April 6 as scheduled earlier.
Prime Minister Sheikh Hasina will formally release the aircraft for commercial operations on Sunday at Hazrat Shahjalal International Airport, says a Biman press release.
The national flag carrier leased the planes from Egypt's Smart Aviation for five years in an effort to grab a share of the growing pie.
Manufactured by world-famous Bombardier of Canada, Dash 8 Q400 is a 74-seat configuration turboprop in a single class.
Due to a shortage of planes, Biman suspended operations on four of the seven domestic routes in 2007. The last route -- Dhaka-Cox's Bazar -- was closed in June 2012.
At present, the airline takes passengers to and from Sylhet and Chittagong by its international flights.
Biman will operate six flights to Cox's Bazar, five to Jessore, three to both Rajshahi and Syedpur and two to Barisal per week.
Furthermore, it will add up to 25 additional frequencies per week on Chittagong and Sylhet route, the Biman release said.
The flag carrier's re-launch of domestic operations comes at a time when the local aviation market is heating up with a number of new players.
A new private carrier, US-Bangla Airlines, has already launched domestic flights, with another one, Epic Airways, set to start operations by the end of the year.
Currently, four private local airlines -- United, Regent, Novoair and US-Bangla -- fly mainly on four domestic routes: Dhaka-Chittagong, Dhaka-Cox's Bazar, Dhaka-Sylhet and Dhaka-Jessore.
The Dhaka-Chittagong route draws the highest volume of traffic followed by Dhaka-Jessore one.
At present, 50,000-55,000 passengers fly nationally a month, with Dhaka-Chittagong accounting for 70 percent.
In 2014, some 680,420 people travelled nationally by air, up 5 percent year-on-year, according to data from Civil Aviation Authority, Bangladesh or CAAB.
With the acquisition of the two Dash 8-Q400s, Biman's fleet now stands at 12.
It runs 18 international routes at present, according to its website.