US for joint efforts to address extremism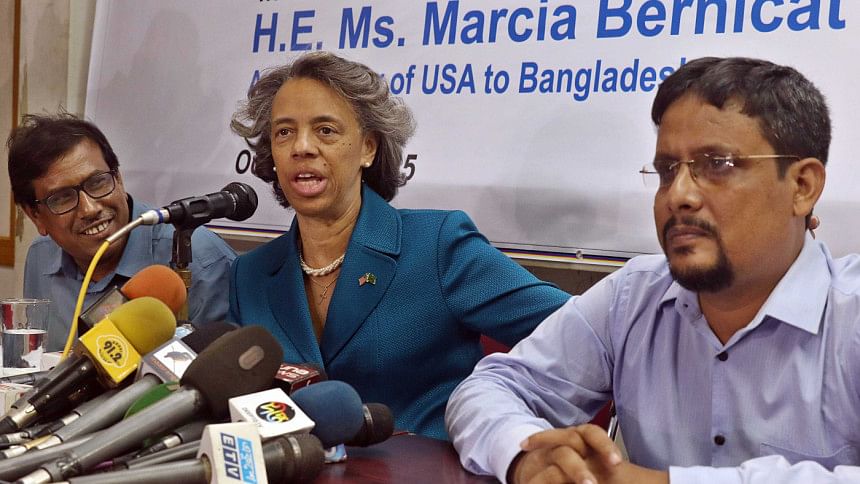 US Ambassador in Bangladesh Marcia Bernicat has underscored the importance of joint efforts to address violent extremism.
"We have everything we need to fight the emergence of ISIL [Islamic State of Iraq and the Levant] in Bangladesh," she said while addressing a meeting of Diplomatic Correspondents' Association Bangladesh (DCAB) at the Jatiya Press Club this afternoon.
Praising the role of the Bangladesh premier, the US envoy said: "Bangladesh has a prime minister who has taken a zero tolerance approach against terrorism."
As partners over the years, she said the US and Bangladesh have developed the resources, the commitment, and the shared experiences "we need to counter terrorism and violent extremism".
Asked about the credibility of information on threats in Bangladesh that led to issuing alerts for their citizens in Bangladesh, the US envoy said in order for any threat to be considered credible, they look at whole range of sources – both public and from their partners and own sources, she said, adding: "That is certainly the case here."
As an ambassador, her very first responsibility is to protect their citizens, she said.
Following Australia cricket team's suspension of Bangladesh tour citing fear of militant attacks, the US, UK and Canada had also alerted their nationals saying foreigners might become targets of attacks.
While the alert was on, Italian citizen Cesare Tavella, 50, was killed in Dhaka's diplomatic zone on September 28 and five days later, Japanese Hoshi Kunio, 66, was gunned down in Rangpur in similar fashion. Militant outfit Islamic State, which is also known as Islamic State of Iraq and the Levant (ISIL), claimed responsibilities of both the cases, according to Reuters.
"We know that there were credible threats issues before the first killing took place. If there is sufficient details, if there is targeting involved and methodology involved, that consisted of credible threat," Bernicat said during today's DCAB programme.
Bernicat, however, said they feel safer now than before following the security measures taken by the government.
The US envoy said her country is absolutely committed to helping Bangladesh government if they are asked for help to get to the 'bottom' of these two killings wherever the origin is.
"Both attacks are done in a very similar manner and it is unusual in Bangladesh. Bangladeshi people's hospitality to foreigners is legendary. It has not changed."
Replying to a query, the ambassador said when Islamic State takes credit for such incidents anywhere in the world, they seek to verify that information.
"We are in the process of going to know whether those claims were accurate. It helps us and all partners to be able to better track terrorist activities around the world," she said.
The US envoy said her country is determined to work together with their shared partners for the safety and security of our countries.
"There are areas of our relationship that require more work, and I can think of no better example than the restoration of GSP [generalised system of preference]," she said.
The recent visit of the Assistant United States Trade Representative to assess progress on the Action Plan will help Bangladesh and its partners prepare for the upcoming Sustainability Compact review, she added.