Bangladesh wakes up to tremors
 --Earthquake: 6.7 magnitude
 -- Epicentre: Imphal of Monipur, northwest India
 -- Local time: 04:35
 -- Tremors felt in Dhaka: 5:05am
 -- 16 hurt in Dhaka
 -- Building tilted in Sylhet
It was a surprise wake up call for people across Bangladesh in the dawn today when a 6.7 magnitude earthquake jolted Dhaka and other parts of the country.
The earthquake hit at 04:35am local time (23:05 GMT Monday) about 33km (20 miles) northwest of Imphal, the capital of Manipur state, in northeast India, near its border with Myanmar and Bangladesh, according to the US Geological Survey (USGS).
The USGS estimated that as many as 98 million people in the region may have felt the earthquake.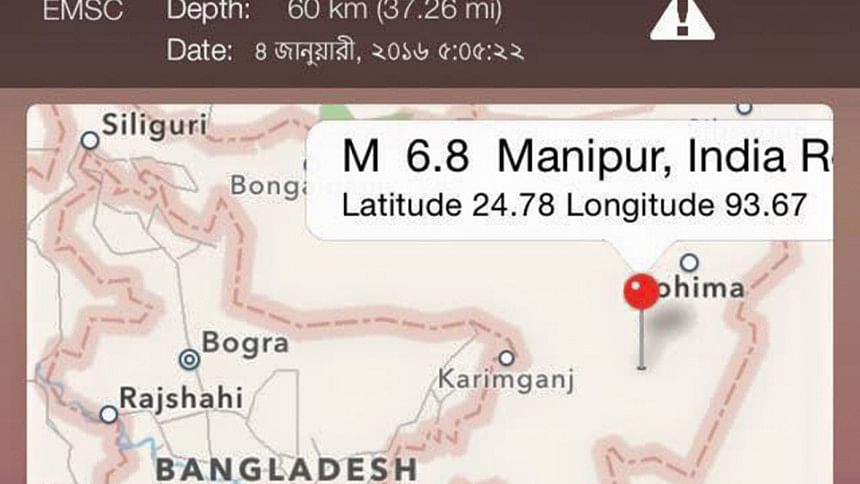 Strong tremors were felt in Dhaka and its adjacent areas around 5:05am when most of the city dwellers were asleep. Panicked people rushed out of their residences and came to their nearby roads following the jolts.
At least 16 students were injured at Dhaka University (DU) while rushing out of their dormitories in a state of panic. The injured were taken to Dhaka Medical College and Hospital (DMCH), DU sources said.
#BREAKING: Panicky people in #Dhaka's Niketan neighbourhood rushed out to road following jolts from 6.8 #earthquake pic.twitter.com/vTFeF83uAg

— Shamim Ashraf (@shamimashraf) January 3, 2016
Meanwhile, at least 40 people, who were injured while rushing for safer places, were admitted to DMCH, private television channel Somoy TV reports.
A building tilted in Sylhet city, the television added.
In April 2015, Nepal suffered its worst earthquake on record with 9,000 people killed and about 900,000 homes damaged or destroyed.