Bangladesh to verify 208 trafficking victims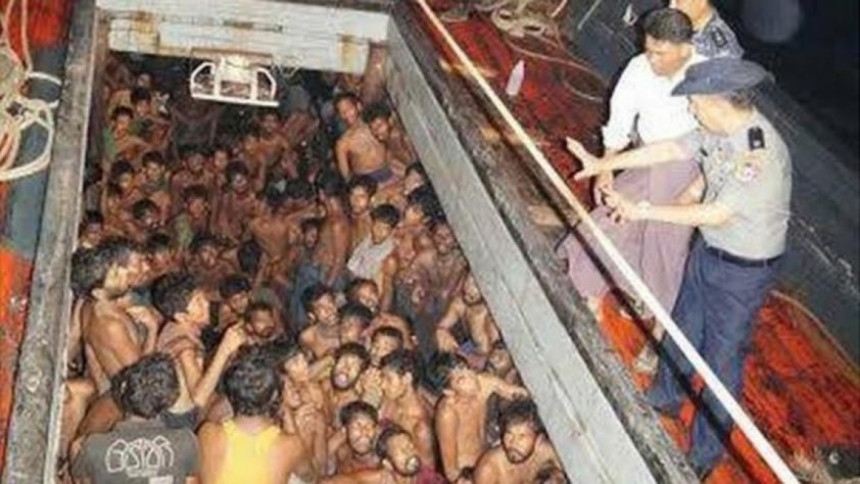 A Bangladesh delegation is ready to depart for Myanmar to verify nationality of the 208 migrants, victims of human trafficking, rescued from sea recently.
The team will verify whether the migrants belong to Bangladesh in view of the recent government announcement of bringing back victim Bangladeshis now adrift in the sea.
International reports had it that the 208 migrants, rescued Friday in the first ever drive by Myanmar, were Bangladeshis. Myanmar had said they would be returned "soon".
The 11-member team is headed by Col Khaliquzzaman, Cox's Bazar Border Guard Bangladesh (BGB) sector commander.
"We are ready to depart for Myanmar. We are now awaiting the green signal from Myanmar authorities," Khaliquzzaman told our Cox's Bazar correspondent.
Myanmar authorities said they have already made contact with BGB on the ground regarding the victims rescued.
Today, BGB official Khaliquzzaman said they have informed the Myanmar authority, in a letter issued last night, about the latest development to discuss the issue.
Over recent years, hundreds of thousands of Rohingya and Bangladeshis have left their homes in what has become the largest regional sea migration since the end of the Vietnam War.
The smugglers largely went about their business unhindered until the crack down by Thailand on smuggling networks in the country's south, which caused many gangmasters to abandon their victims.
Other smugglers off the coast of Myanmar have held off making the crossing because of the crackdown, instead keeping their human cargo trapped on boats moored in the Bay of Bengal.
A trickle of would-be migrants have managed to return to Myanmar after relatives raised funds to buy them back from smugglers.
But many more are thought to be still stuck on boats, and aid workers have urged countries to rescue them before the region is lashed by heavy monsoon rains.