Commuters suffer as transport strike continues in 8 dists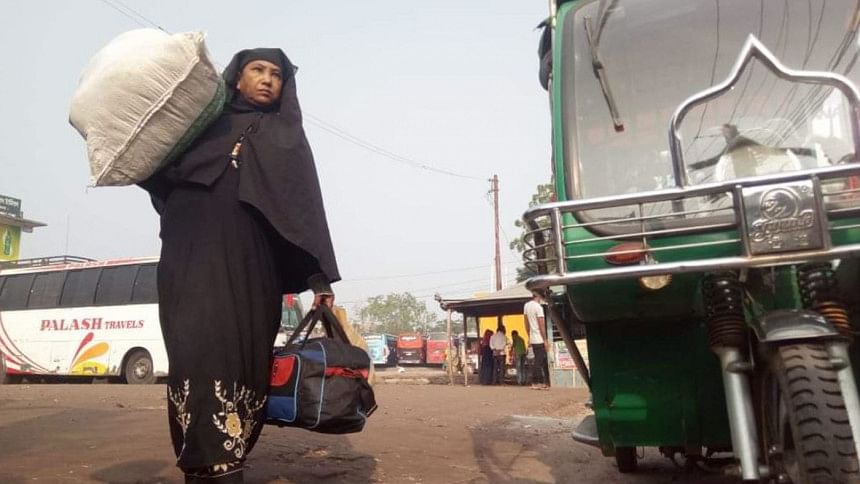 The transport strike, enforced protesting the Road Transport Act-2018, has been continuing in eight districts for the second consecutive day, causing immense sufferings to the commuters.
Transport owners and workers enforced the indefinite strike yesterday, defying Road Transport and Bridges Minister Obaidul Quader's call for them to refrain from such programmes centring the new transport law.
In Khulna, workers declared that they will continue their strike until the amendments of some sections under the law are made, our district correspondent reports quoting President of the Khulna Motor Workers' Union Md Nurul Islam Baby.
Owing to the strike, hundreds of buses were seen parked at Royal Intersection and Shonadanga Bus terminal this morning.
Many were seen inquiring at different counters about the schedule of the buses but to no avail.
In Kushtia, movement from the district to other destinations was severely restricted owing to the strike and many had to resort to hiring local modes of transport such as autorickshaws and electric bikes to reach their destination, reports our Kushtia correspondent.
No decision has been taken to call off the strike but the local administration and transport leaders are likely to sit in a meeting soon, said Mahbubul Haque, president of Workers' Union in Kushtia.
Transport workers in Khulna, Satkhira, Jhenidah, Narail, Kushtia, Meherpur, Jashore, Bhuapur upazila of Tangail and Rajshahi went for the strike yesterday, demanding changes in several sections of the act.
But transport movement began in Rajshahi partly this morning although the presence of bus on the road was thin.
Jahangir Alam, president of Rajshahi Motor Sramik Union, said there are 500 public buses in the district, of which 250 run on every alternate day.
After the law was enforced, the drivers feel unsafe as many of them have no valid documents.    
The new law, with increased fines for traffic offences, was supposed to be put into effect on November 1. But it was delayed as transport associations had allegedly been lobbying against it.
Although central leaders of transport owners and workers associations said they did not instruct their units to go for the strike, many workers observed work abstention.