Bangladesh toll in Hajj stampede now 68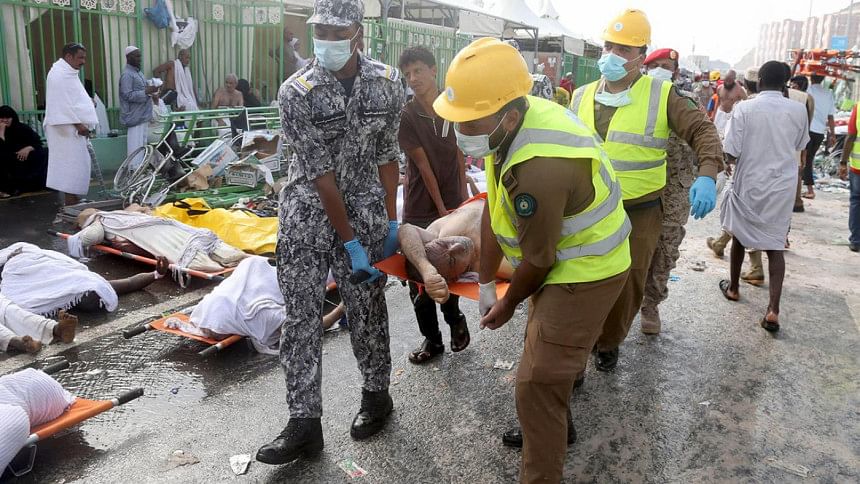 The number of Bangladeshis killed in the Mina stampede during Hajj last month has risen to 68.
The Hajj mission in Saudi Arabia confirmed the death toll, said Hajj Agencies Association of Bangladesh President Mohammad Ibrahim Bahar today.
At least 109 other Bangladeshi hajis have been missing since the September 24 incident, said officials at the Bangladesh consulate in Jeddah on Monday.
Of the 1.6 lakh Bangladeshis who travelled to Saudi Arabia to perform Hajj this year, 32,000 returned home till this morning, Ibrahim said.
ALSO READ: Hajj stampede: Saudi mufti says deaths 'beyond human control'
Saudi officials, who could not be immediately reached for comment Friday, previously have said their tally remains accurate, though an investigation into the causes of the tragedy is ongoing.
Authorities have not updated their casualty toll since September 26, two days after the disaster.
Two weeks before the Mina incident, 107 people died as a construction crane collapsed into the Grand Mosque in Makkah.
Many countries that sent pilgrims to this year's Hajj estimated the number of deaths in stampede alone at more than 1,000.
ALSO READ: Saudi Arabia under fire
International news agency Associated Press today claimed that both the tragedies during the annual hajj pilgrimage to the kingdom killed at least 1,453 people during the hajj, a new tally showed on Friday to make it the deadliest event to ever strike the annual pilgrimage.
The AP count is 684 higher than Saudi Arabia's official tally in the September 24 disaster in Mina.
The AP figure comes from statements and officials' comments from 19 of the over 180 countries that sent citizens to the five-day annual pilgrimage.
The previous deadliest-ever incident happened in 1990, when a stampede killed 1,426 people.