Bangladesh to surprise world in SDGs too, says PM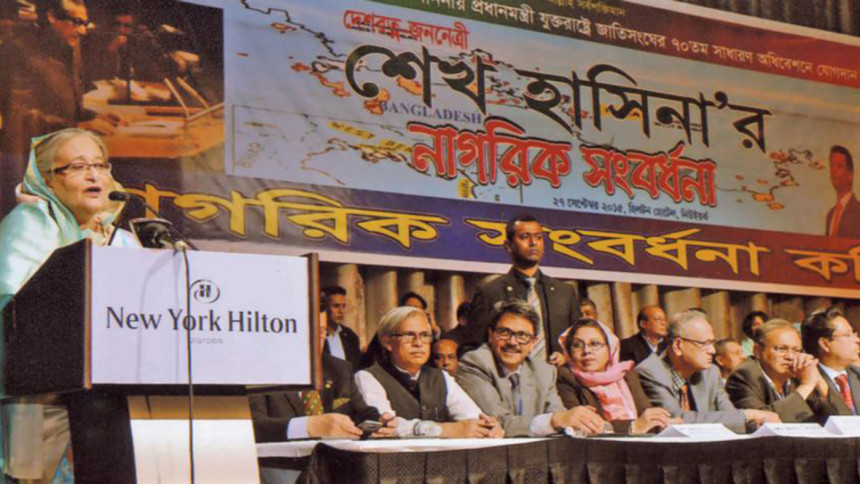 Prime Minister Sheikh Hasina has said Bangladesh is committed to leading by example again in case of the Sustainable Development Goals (SDGs) as it surprised the world with its achievements in MDGs.

"Let's commit our will and wealth for our present and future. In our journey, no one will be left behind as we aspire to build a just, progressive, peaceful and prosperous Bangladesh," she said.

The Prime Minister was addressing a event titled 'MDGs to SDGS - A Way Forward' organised by Bangladesh at the UN Headquarters in New York on Tuesday.

Terming this year's UNGA-adopted Sustainable Development Goals (SDGs)-2030 a collective journey, she said the international community has to deliver on the means of implementation. 

King Willem-Alexander of the Netherlands, President of the Republic of Benin Boni Yayi, Prime Minister of Sweden Stefan Löfvén, President of the General Assembly Mogens Lykketoft, UNDP Administrator Helen Clark, UN Under Secretary General and representative of UN Secretary General, Gayan Chandra Achariya, and Special Envoy to World Bank President Mahmud Mohiuddin also spoke on the occasion.

Hasina said Bangladesh is a country which has already achieved or, are on track to meet almost all the MDGs. "We've proved many myths wrong," she said adding that Global development thinkers like Prof Amartya Sen lauded Bangladesh's overall progress. Prof Sen underlined that Bangladesh has progressed much more in development sector compared to many developing countries."

Mentioning that Agenda 2030 is about a collective journey, she said the international community has to deliver on the means of implementation. "We'll need scaled-up resources from all sources - public and private, domestic and international.​We also need critical support in technology and capacity building areas. We need adaptive and environmentally sound technologies."

The Prime Minister said​ Bangladesh is an important part of the global supply chain and for it to benefit, the global trading and financial regime and institutions have to be fair, transparent and ethical. "Partnership is also crucial," she said.

She said Bangladesh looks at Agenda 2030 with much interest. "We want to sustain the momentum of the MDGs, build on their successes and transform Bangladesh."