Road crashes kill 11 in 4 districts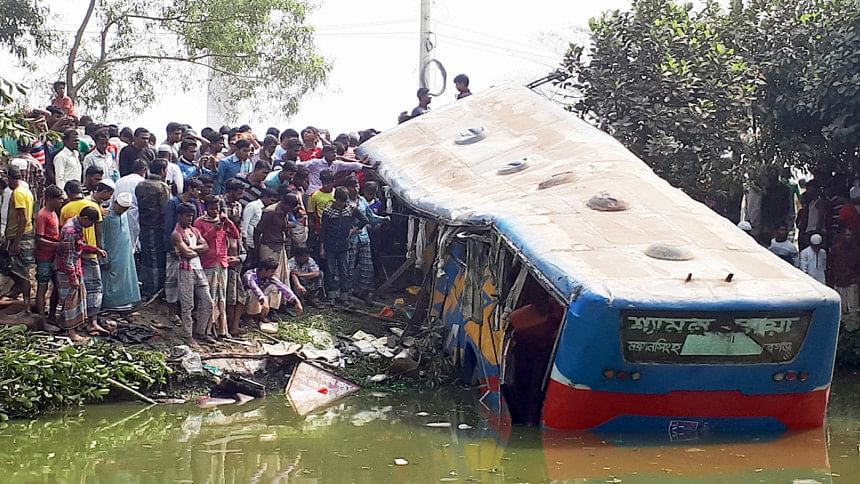 At least 11 people died and 25 others were injured in separate road accidents in Natore, Mymensingh, Feni and Madaripur today.
In Natore, three persons were killed when a bus ran over their motorcycle on Bonpara-Hatikumrul road in Gurudaspur upazila of the district around 12:30pm.
The deceased were Rakibul Islam, 18, Bayezid Hossain, 16, and Abdul Hakim, 13, our local correspondent reports quoting Samsun Noor, officer-in-charge of Bonpara Highway Police Station.
In Mymensingh, four people including two women were killed and 25 were injured when a bus skidded off the road in Ishwarganj upazila on the Mymensingh-Kishoreganj highway around 10:00am.
Our correspondent quotes Badrul Alam Khan, officer-in-charge of Ishwarganj Police Station, to report that the bus was trying to save a bicycle when the driver lost control.
The deceased were identified as Ratan Mia, 28 and Rezia Khatun, 35 of Ishwarganj upazila, passengers Hadis Mia, 35, of Nandail and Hasina Khatun, 75, of Jamalpur.
In Feni, a mini truck driver and his helper died on the spot as the truck turned turtle on the road after a covered van hit it from behind on the Dhaka-Chittagong Highway at Chanua in Sadar upazila around 8:30am, reports our Feni correspondent quoting police.
The deceased were identified as truck driver Iqbal Hossain, 40, of Fazilpur village in Feni's Sadar upazila, and his helper Shamim Hossain of Senbagh of Noakhali district, said Mahbubul Alam, sub-inspector of Feni's Muhuriganj Highway Police Station.
In Madaripur, two women were killed and two other people injured following a collision between a pickup van and a rickshaw-van in Sadar upazila around 2:30pm,  the Bangla daily Prothom Alo reports quoting Sumon Kumar Deb, additional superintendent of police (sadar circle) of Madaripur.