PM receives Global Women's Leadership Award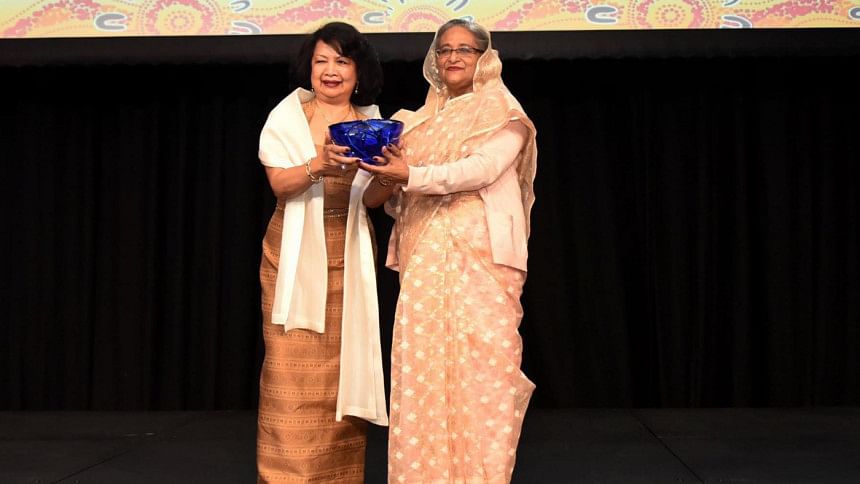 Prime Minister Sheikh Hasina today called for mobilizing a new global alliance to promote women rights and empowerment as she was conferred with Global Women's Leadership Award for her outstanding contribution to their cause.
"We have to forge a new alliance to support the women and uphold their rights. Together, we must act on our shared culture, tradition and values to benefit millions of women in need," she said while receiving the award at a Gala Dinner of the Global Summit of Women 2018.
Sheikh Hasina received the prestigious accolade from Global Summit of Women President Irene Natividad amid thunderous clapping of nearly 1500 women leaders from across the globe who joined the summit.
The women leaders gave a standing ovation to the Bangladesh prime minister for several minutes on the occasion.
The US-based Global Summit of Women conferred the award on Sheikh Hasina for her leadership in women's education and entrepreneurship in Bangladesh.
A video documentary on the political life of Sheikh Hasina, Bangladesh's economic progress and different steps taken by her government for women empowerment was screened earlier.
Prime Minister's younger sister Sheikh Rehana and Foreign Minister AH Mahmood Ali, among others, were present on the occasion.
Sheikh Hasina said: "I am highly glad and deeply honored" to receive the Global Women Leadership Award 2018 and she dedicated it to the women across the world, who have shown their might in changing their lots.
"It is a great pleasure for me to see the women change-makers," the premier said and extended sincere thanks to the Global Summit of Women for nominating her for the prestigious accolade and organizing this gala event.
She urged all to work together to overcome traditional gender stereotypes regarding women's ability and reach out marginal and vulnerable women who were still less fed, not schooled, under-paid and violated.
The premier particularly stressed creating equal opportunities for women in all sectors of life and livelihoods and said no woman and girl should be left behind. She also called for women's enhanced productivity by addressing health hazards specific to women.