Eid-ul-Fitr observed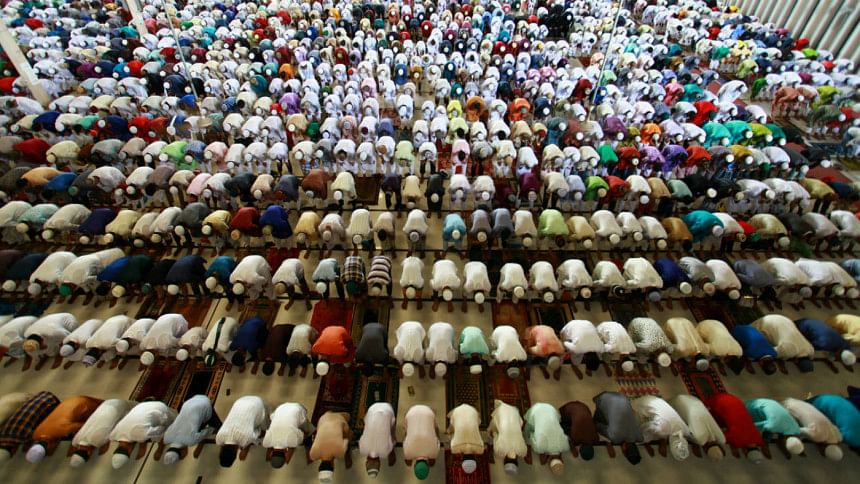 Eid-ul-Fitr, one of the biggest religious festivals of Muslims, has been celebrated in the country amid much enthusiasm and religious fervour.

The main Eid-ul-Fitr congregation was held at the Jatiya Eidgah in the capital at 8:30am.

President Abdul Hamid offered his Eid-ul-Fitr prayers along with hundreds of devotees from all walks of life at the National Eidgah.

READ MORE: President, PM greet countrymen on Eid-ul-Fitr

Moreover, cabinet members, judges of the Supreme Court, members of Parliament, senior politicians, and high civil and military officials also offered prayers at the main Eid congregation held at the Eidgah adjacent to the High Court premises here.

Five congregations were held at the National Mosque at 7:00 am, 8:00 am, 9:00 am, 10:00 am, and 10:45 am.

The country's largest Eid congregation was held at Sholakia Eidgah in Kishoreganj at 10:00 am amid tight security.

On the Eid day, the national flag will be hoisted atop public and private buildings.

Besides, the main thoroughfares and road islands were decorated with the national flag and banners inscribed with 'Eid Mubarak' in Bangla and Arabic. Public buildings were illuminated on the occasion.

BTV and other television channels, and Bangladesh Betar and private radio stations have been airing special programmes.

Improved diets were served at hospitals, jails, government children homes and vagrant welfare centres.

Meanwhile, President Abdul Hamid, Prime Minister Sheikh Hasina and BNP Chairperson Khaleda Zia have issued separate messages greeting people on the occasion.

In his message, the President said after a month-long siam practice, Eid-ul-Fitr brings messages of pure joy and pleasure for the mankind. "Eid builds the ties of harmony, amity and unity among people of all classes and professions."

He hoped that the teachings of Eid-ul-Fitr will inspire all in building a prosperous Bangladesh.

In her message, the Prime Minister said, "Eid teaches us about peace, sympathy and brotherhood."

Meanwhile, law enforcement agencies, including police and Rapid Action Battalion (Rab), took additional security measures across the country on the occasion to avert any untoward incident.