Bangladesh to have no cohort of defeated forces: PM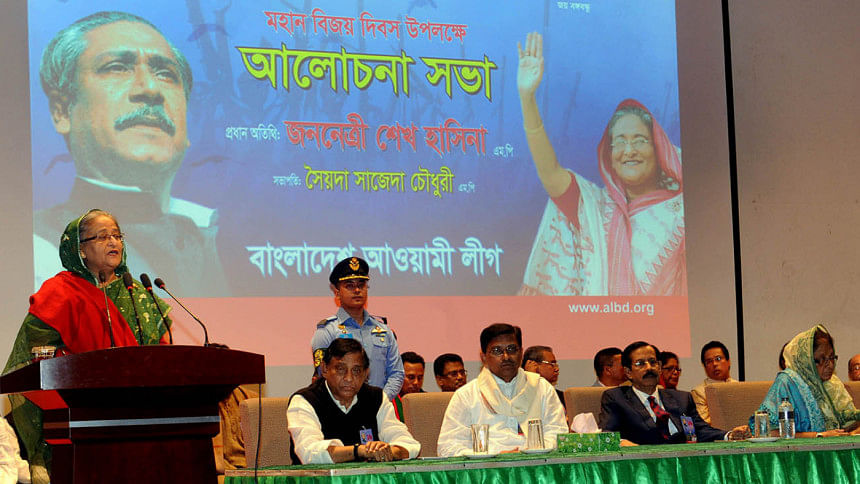 Hinting that Khaleda Zia will one day face trial for patronising war criminals, Prime Minister Sheikh Hasina today said there will be no existence of the cohorts of the defeated forces in Bangladesh.
"It hurts us that the cohorts of anti-liberation forces still dream of Pakistan despite living in Bangladesh. They couldn't yet forget their 'Pyare Pakistan'. But, we've to force them to forget it. There'll be no existence of the cohorts of the defeated forces in Bangladesh," she said.
Hasina, also the Awami League chief, was addressing a discussion marking the 45th Victory Day at Krishibid Institution auditorium in Dhaka.
Deputy Leader of the House Syeda Sajeda Chowdhury presided over the discussion organised by the ruling party.
Alleging that BNP founder Ziaur Rahman had first patronised the war criminals and rehabilitated them in state power, Hasina said Khaleda followed the path of her husband after assuming power and handed over the national flag stained with the blood of millions of martyrs to those war criminals by making them ministers.
"What will answer Khaleda to the nation? These war criminals underwent trials and even some of them have been hanged...Khaleda will have to take the responsibility one day for making war criminals ministers," she said.
Referring to the allegations of the many BNP men over their cases, Hasina said such cases were filed against those who burned people to death, destroyed public property alongside their order givers and patrons.
Lambasting the BNP chief and her son Tarique Rahman for embezzling the fund of orphanage and siphoning off money, Hasina alleged that the BNP-Jamaat men were also involved in August 21 grenade attack, Ahsanullah Master murder, Shah AMS Kibria murder and many more.
"Killers are killers and their trials will surely be held in Bangladesh, no one will be able to save them," Hasina added.
AL Advisory Council member Suranjit Sen Gupta and AL Presidium member and Agriculture Minister Matia Chowdhury also spoke at the meeting.
Earlier, a one-minute silence was observed commemorating the four martyred national leaders, martyrs of the Liberation War and that of all democratic movements and the August 15 carnage.