PM smells BNP-Jamaat link to foreigners' killings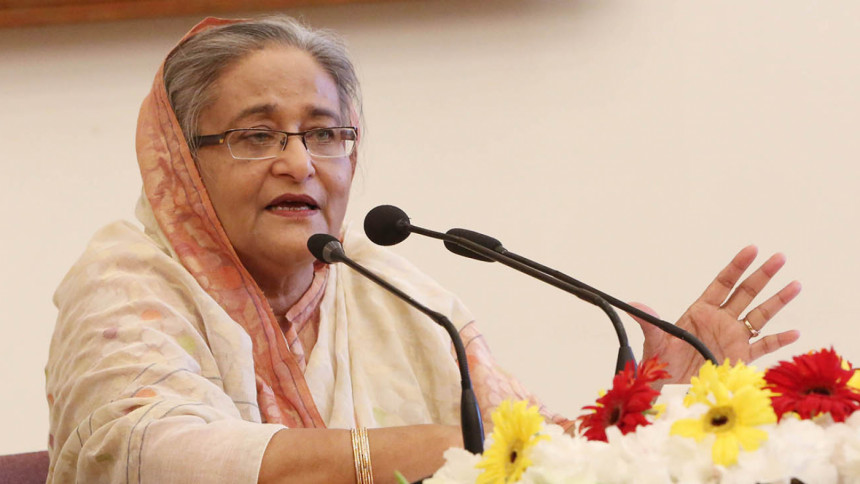 Prime Minister Sheikh Hasina today said the two foreign nationals have been killed in a planned way and alleged that BNP-Jamaat nexus might have a link to the two murders.
"The style of killings of these two foreign nationals are the same, these are planned murders. If you assemble the remark of a BNP leader and the reaction after the killing of Italian national in Gulshan area, the matter will get clear," she said.
The Prime Minister was speaking at a press conference at her official residence Ganobhaban to inform the outcome of her recent US visit to attend the UN General Assembly and other programmes.
Hasina said the government is taking steps to find out the culprits. "But, these two killings do not mean that all our achievements have been battered and washed away. If you think that way then the objective of BNP-Jamaat clique and Razakars will be fulfilled," she added.
Responding to a volley of questions over the killing of the two Italian and Japanese nationals in Dhaka (Gulshan) and Rangpur, Sheikh Hasina said, "Of course, there's something planned…The trial of war criminals are going on…these elements were in power 21 years after 1975, we are holding their trial, they'll demonstrate some reactions."
Responding to a question from a senior journalist of a private TV channel regarding the link of Islamic State (IS), which she mentioned that the Home Minister admitted, the Prime Minister said, after the killing of Italian citizen there was a social media statement from Chicago that IS is involved in this matter. But so far there is no proof of their involvement, we have to investigate it.
"Naturally, we didn't find any link, why do we have to accept a status from unknown persons, why should it come from Chicago that IS has done this?" she questioned.
The Prime Minister also said the local intelligence has so far failed to come up with any information regarding this killing. "At this point, how does our Home Minister admit that …surely this should not have been said, and I don't see any logic to say that until we find it out through investigations."