Drug peddler killed in 'gunfight'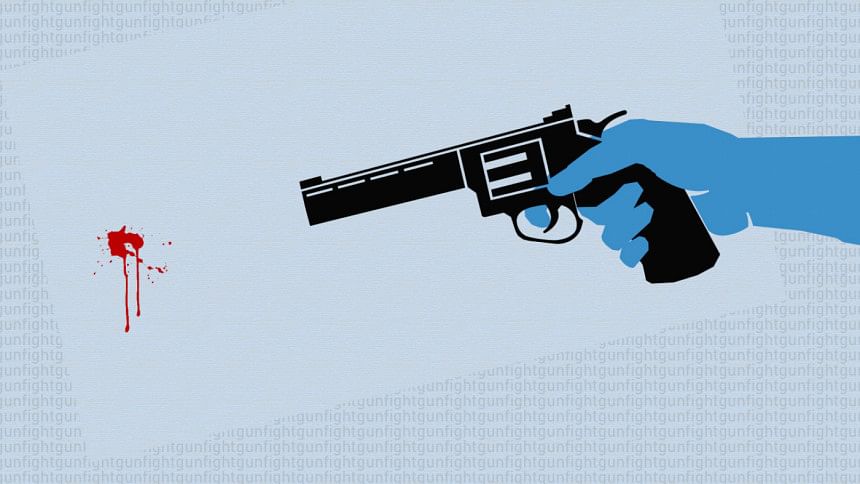 A suspected drug peddler was killed in a "gunfight" with members of Border Guard Bangladesh and police in Teknaf yesterday.
The dead is Mostak Ahmad alias Musu, 35, of Uttar Jaliapara in the upazila.
Earlier on Saturday evening, BGB members detained Mostak from Teknaf municipality area.
Lt Col Asad-uz Zaman Chowdhury, commander of BGB Battalion-2 in Teknaf, claimed Mostak was an enlisted drug trader and had more than 10 cases against him with Teknaf Police Station.
On information, BGB members, along with police officials, took Mostak to Uttar Jalaipara area around 4:00am yesterday to recover yaba tablets. But, his cohorts opened fire on the law enforcers, forcing them to retaliate, the BGB official claimed.
Musu's bullet-ridden body was recovered from the spot after the "gunfight" stopped. Later, he was taken to a Cox's Bazar hospital where doctors declared him dead, he said.
BGB also claimed to have recovered 10,000 pieces of yaba tablets and a locally made gun from the spot.
However, The Daily Star could not independently verify the law enforcer's claim.
The body was handed over to the family members after autopsy, said Pradip Kumar Das, officer-in-charge of Teknaf Police Station.
Two BGB personnel and a policeman were also injured during the "gunfight".