Bangabandhu's portrait unveiled at Jatiya Press Club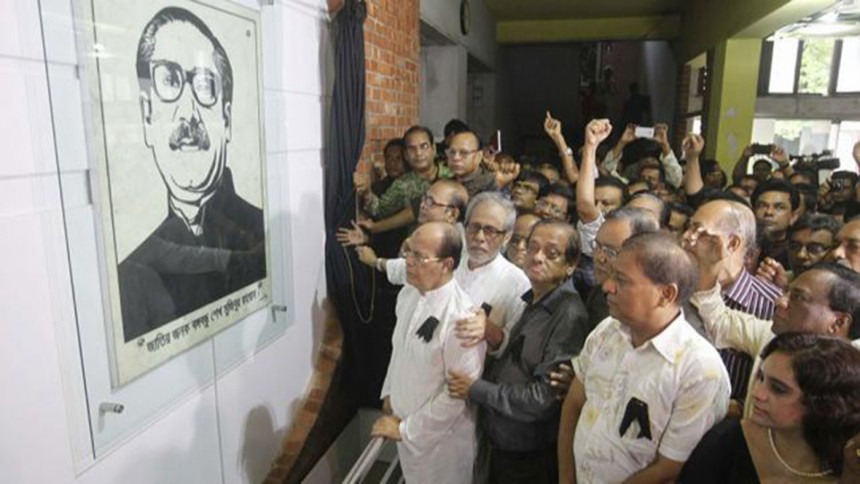 A portrait of Father of the Nation Bangabandhu Sheikh Mujibur Rahman was unveiled at Jatiya Press Club in Dhaka today.
The mural portrait was set up there recalling the contribution of Bangabandhu Sheikh Mujibur Rahman to building the press club.
The prime minister's media adviser Iqbal Sobhan Chowdhury opened the portrait on the ground floor of the press club this morning, marking the National Mourning Day.
Senior journalists Golam Sarwar, Manjurul Ahsan Bulbul, Jatiya Press Club President Shafiqur Rahman and journalist leaders were present on the occasion.
A prayer session was also held after the opening of the artwork.
Later the journalist leaders placed wreaths at the portrait of Bangabandhu.
Terming the installation of the portrait of Bangabandhu a historic incident, Iqbal Sobhan Chowdhury said Bangabandhu Sheikh Mujib had donated the land for Jatiya Press Club.
In the last 44 years after the independence, the press club authorities failed to install the portrait despite repeated attempts taken earlier, which is a shame for all, Iqbal Sobhan remarked.
But now the journalist community together could make it successful and paid their homage to father of the nation, marking the National Mourning Day, he said.