Bad weather halts Paturia-Daulatdia launch services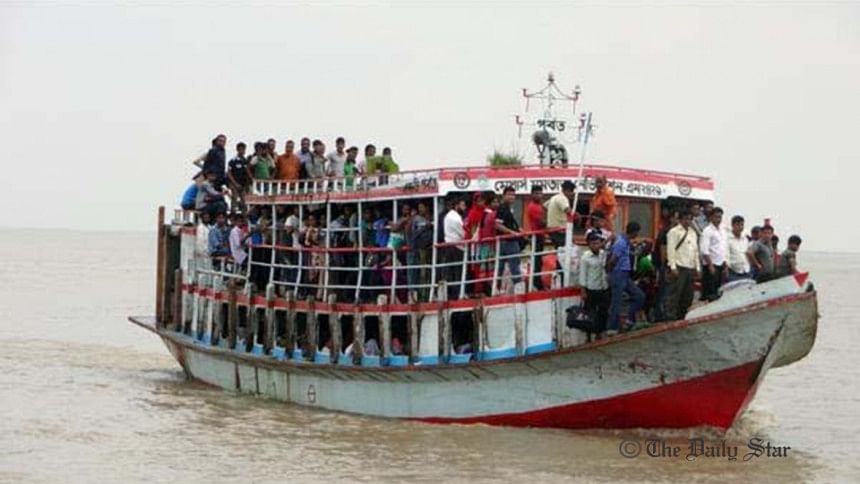 Four days into the suspension of ferry services, the BIWTA has suspended launch services on Paturia-Daulatdia route since last night due to rough weather.
 "We have suspended the launch services from 8:00pm yesterday in order to avert any untoward incident," our Manikganj correspondent reports quoting Faridul Alam, assistant director (transport) of Bangladesh Inland Water Transport Authority (BIWTA) at Aricha office.
Meanwhile, the BIWTC stopped ferry services on the route since Saturday following damage to three landing stations (ghat) at Daulatdia terminal in Rajbari. After that, the Bangladesh Inland Water Transport Corporation (BIWTC) has asked all users to use the Bangabandhu bridge.
After the ferry services came to a halt, the passengers had been using 25 launches to cross the Padma river, the BIWTA official said.
During a visit to the Daulatdia ferry terminal yesterday, this correspondent found the approach road linked to landing station-2 was damaged by strong currents and a part of the abandoned landing station-1 was also washed away in the river.
Nearly 400 trucks were seen standing in the queue, waiting for ferry services to resume.
The fleet of Paturia-Daulatdia ferry service consists of 18 ferries, but the service has been disrupted many times since July 20 owing to strong currents in the river and erosion of the river banks.