Resist terrorism, militancy: PM
Prime Minister Sheikh Hasina calls upon the people to be united in resisting terrorism and militancy to establish peace and security in the public life.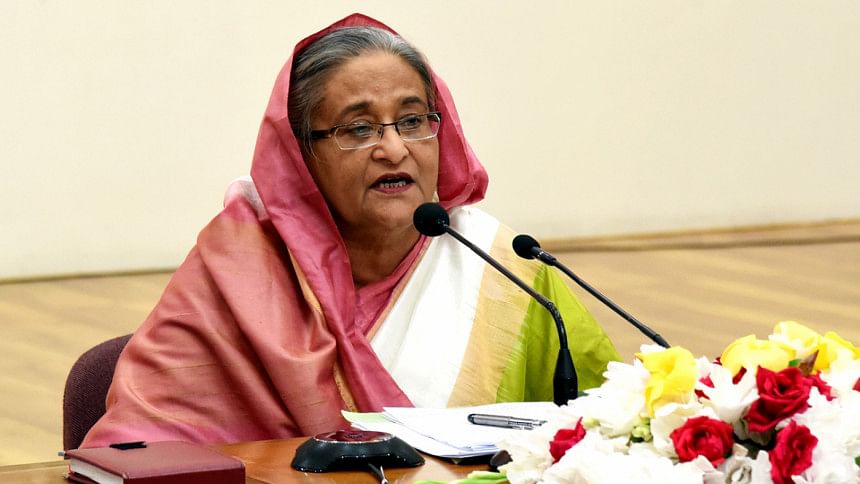 Prime Minister Sheikh Hasina today called upon the people of all strata to be united in resisting terrorism and militancy to establish peace and security in the public life.
"All will have to take a vow that there won't be any place of terrorists and militants on Bangladesh's soil. We won't allow any activities that would malign Islam ... any activities that will destroy peace and security of the people won't be acceptable to us," she said.
The prime minister was speaking through videoconferencing with administrative officials, teachers, imams, members of the law-enforcement agencies, local public representatives, journalists, professionals and social workers of 15 districts of Chittagong and Sylhet as part of her campaign against militancy and terrorism from her official residence Gano Bhaban this afternoon.
Education Minister Nurul Islam Nahid, Home Minister Asaduzzaman Khan, PM's Political Affairs Adviser HT Imam, Energy Adviser Dr Towfiq-e-Elahi Chowdhury and State Minister for Youth and Sports Biren Shikdar were present during the videoconferencing moderated by PM's principal secretary Md Abul Kalam Azad.
Sheikh Hasina said when the country is marching towards the path of light and is being recognised as a role model of socioeconomic uplift in the world, a quarter at that time is out to taint the country's image and take it to darkness through perpetrating militancy and terrorism.
"So I think all will have to be united against terrorism and militancy and establish peace and security in the public life and free Bangladesh from the twin devils by eliminating terrorism and militancy," she said.
For this, she said, the people of all walks of life including religious leaders, teachers, guardians, public representatives, administrative officials and law enforcers, social workers, businessmen, journalists will have to play an important role in thwarting terrorism and militancy.
The prime minister said she always remains beside the people of the country. "Let's build the country as a happy and prosperous Sonar Bangla as dreamt by Father of the Nation Bangabandhu Sheikh Mujibur Rahman," she said.
Pointing out two recent back-to-back dastardly terrorist attacks at Gulshan in Dhaka and at Sholakia in Kishoreganj, the prime minister said these incidents are very shameful for Bangladesh and heinous crimes. "These were unleashed just to tarnish the image of the country abroad," she said.
Sheikh Hasina mentioned that those who carried out the brutal attacks and killed innocent people during the time of Esha, Tarabih and Eid prayers could not be believers in Islam.
Referring to the recent bomb attacks carried out on the premises of the holy Masjid-e-Nababi in Saudi Arabia, the prime minister posed a question that what type of Muslims they are who launched the attacks in Bangladesh and Saudi Arabia.
"The misdeeds were carried out just to defame Islam, the religion of peace, before the world community. The culprits will only incur hatred of the people ... they will never go to heaven, rather they will go to hell," she said.