Now land donor walks on 'human bridge'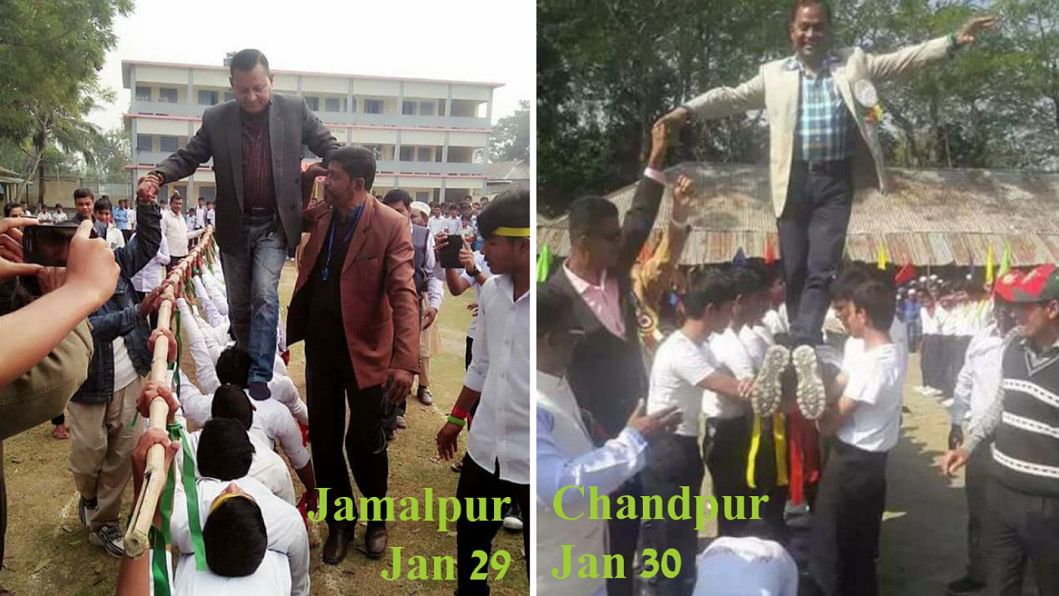 Yet another photo surfaced on social media where a donor of a school land in Jamalpur is seen doing the same thing for what an upazila chairman of Chandpur was sued today.

Balancing his way with help of others, the land donor, Dildar Hossain alias Prince, is seen walking over the shoulders of students of Mahmudpur Bohumukhi High School in Molandaha upazila on January 29, according to a report by Bangla daily Prothom Alo today.

On the next day, a local elected public representative in Chandpur, Nur Hossain Patwary walked over a "human bridge" formed by young students of Nilkomal Osmania High School during an annual sports event. He was sued for the action today.

A guardian, Ali Ahmed, filed the case against five people including the upazila chairman of Haimchar upazila under child act.


Like Patwary's photo, the image of Dildar went viral last night over social media sparking outrage and condemnation.
Holding a long bamboo in their left hand students of Class IX and X formed the "human bridge" over which Dildar walked through at the school's annual sports event.
The students were reported to be members of Scouts.
"The annual sports programme was held on that day. In groups the students displayed physical skills. I don't know whether any human bridge was made at that time. The land donor Dildar Hossain was not a guest at the event," Prothom Alo reports quoting the Headmaster of the Jamalpur school, Md Asantuzzaman.      
He will look into the matter, the school headmaster said.
The Bangla daily tried to reach Dildar over phone but his phone was switched off.
Deputy Commissioner of Jamalpur Md Shahabuddin Khan told Prothom Alo that he had instructed law enforcers to take measures against the accused.