Amnesty India to take Felani killing case to SC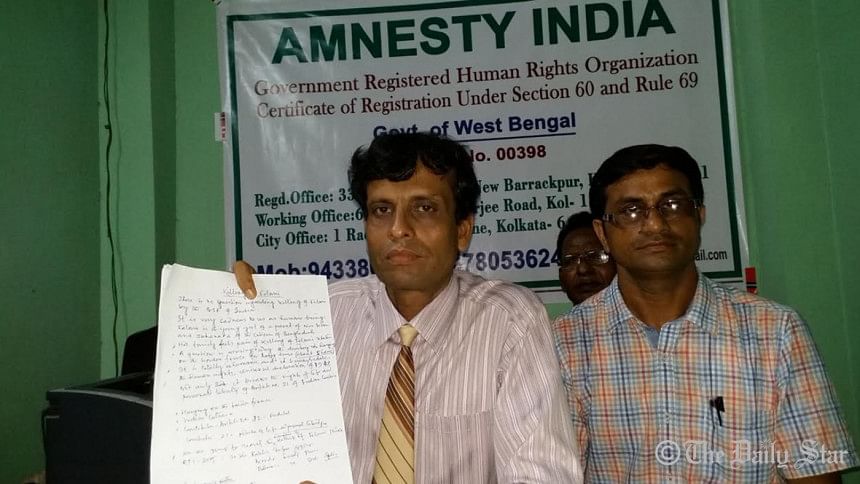 Amnesty India says it will move to the Supreme Court with Felani killing on humanitarian grounds
It will file a writ petition on July 13
A special court of BSF began trial on August 13, 2013 and lone accused trooper Amiya Ghosh was acquitted of murder charge on September 6, 2013
Amnesty India will move to the Indian Supreme Court challenging acquittal of a Border Security Force (BSF) man in Bangladeshi girl Felani Khatun killing case.
Indian human rights body has said it will file a petition as public interest litigation with apex court of the country on July 13.
Amnesty India Secretary Sushanto Sarker said, "We will move to the Supreme Court very soon."
The Felani murder is a very grievous incident and it cannot be Indian culture. The body of Felani remained hung on the border wires for hours, and it is a severe violation of human rights, reports our Kolkata correspondent quoting Sushanto.
"We are taking it to the honourable justice of the Indian Supreme Court on humanitarian grounds. Hopefully, our efforts will be successful."
Fifteen-year-old Felani Khatun was shot dead by a BSF man while she, along with her father, was returning home from India through Anantapur border in Phulbari upazila of Kurigram on January 7, 2011.
Her dead body was hung from barbwires along the border for hours. A photo of that heart wrenching moment was caught by the media. The killing drew widespread attention and huge flak from all over the world.
A special court of the Indian BSF began trial over this incident on August 13, 2013. As an outcome of the proceedings, the lone accused trooper Amiya Ghosh was acquitted of murder charge on September 6, 2013.
Felani's father appealed to Indian High Commissioner to Bangladesh for revision trial in the case. On his appeal, proceedings of the revision trial, held in Cooch Bihar of West Bengal, began from September 22 last year.
On July 2, a special West Bengal court of Indian Border Security Force (BSF) has upheld its previous verdict after the hearing of the revision trial.
"The court has reached the same conclusion as it did in the previous time and acquitted him on the same grounds," our New Delhi correspondent reported quoting sources inside the BSF.
However, the latest decision is subject to revision and approval by an Additional Director General rank officer, also the competent authority, of BSF based in the eastern sector of the country.