Bangladesh, US should fight terrorism together, say officials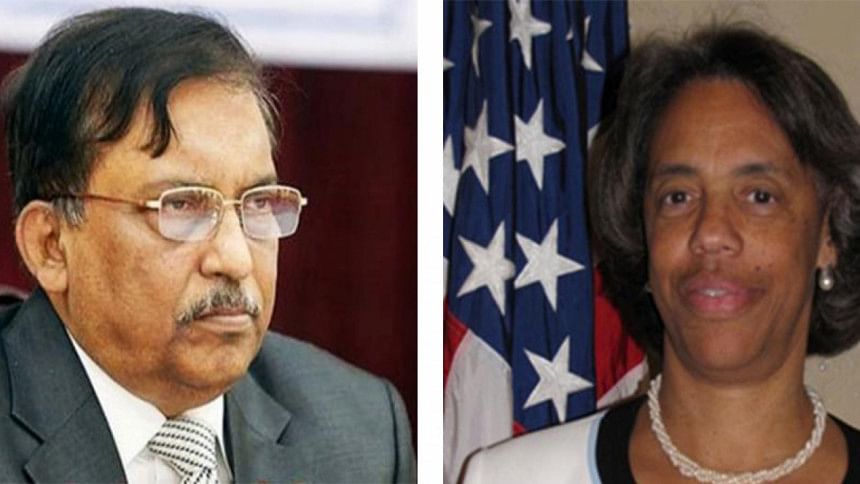 In the wake of recent wave of killings, Bangladesh home minister and US ambassador today stressed the need to fight against terrorism together.
"I just met with your home minister, with the heads of your police forces. They are our strong partners. But they can't do this job alone, none of us can. We all have to do this together," the US ambassador Marcia Bernicat told reporters at the secretariat after the meeting.
Bangladesh Home Minister Asaduzzaman Khan said he urged the US ambassador to fight terrorism together.
He asked the US ambassador to share any information they had, be it intelligentsia or any other kind of information, with the Bangladesh government.
"We are expanding units of our police force to increase efficiency. Arrange training for our officers," the minister told the US envoy, adding that thus they can work together.
The minister said Bernicat had welcomed the proposal and assured of necessary supports.  
The US ambassador mourned the brutal killing of USAID official and LGBT magazine editor Xulhaz Mannan and his friend Mahbub Tonoy on Monday and said the embassy family offered its prayers to Xulhaz's remains before they went to the cemetery.
"We are working very hard on all of our counter-terrorism cooperations and I can assure you that my government wants to help Bangladesh," she said replying to another query.
Pointing out that the Bangladesh government has been effective in fighting terrorism in the past, she said that the US wants to make sure that the country has all the tools its needs for this fight.
Terming the killings as barbaric, Bernicat said: "I want to say to you all today that no human being deserves the death he got. It doesn't matter what you believe, it doesn't matter what you write, it doesn't matter who you love and it certainly doesn't matter whether you pray to a god or not. You don't deserve to be killed."