All 206 sawmills operating without license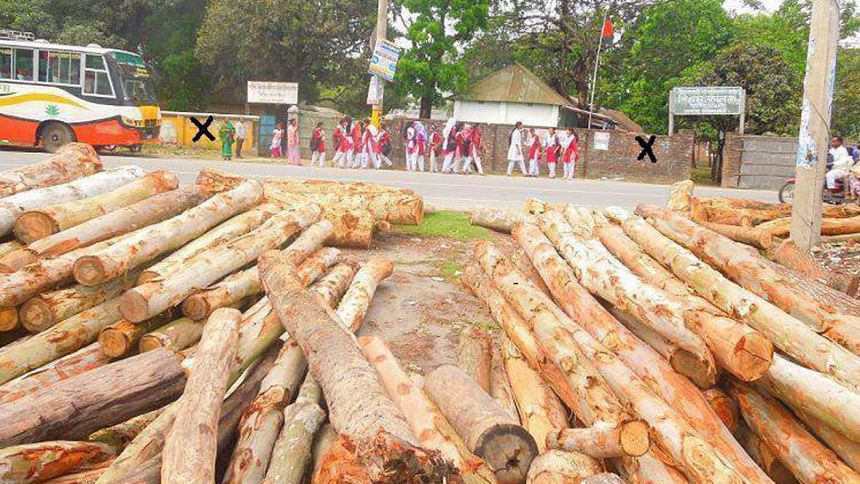 All the 206 sawmills in the district are operating without any valid license issued by forest department, thanks to the lax monitoring of the authorities concerned.
"I did not get license for my mills as I faced no difficulty to operate those although forest department sent letters, asking me to do so," said Rustom Ali, owner of two sawmills at Halir Bazar, a busy market in Khoksabari union of Sadar upazila.
"I managed to get a license for my sawmill in 2002. But I never renewed it although it is mandatory to do it every year," said Lablu Islam, owner of Bhai-Bhai Sawmill at Gasbari in Nilphamari municipality.
Rules do not allow setting up of sawmills within 200 metres of any educational institution but a large number of sawmills are operating in violation of the rule, sources in forest department said.
At Gasbari, three sawmills are operating beside Nilphamari-Domar road within 100 metres of two educational institutions -- Shahid Zia Girls' High School and Business Management College.
There is strict ban on setting up of sawmill within 10 kilometres of international border and any recognised forest but a large number of sawmills are operating within two to three kilometres of such places in Chilahati, Gomnati, Purbo Satnai, Tepakharibari and many other villages in Domar and Dimla upazilas.
Contacted, Monsur Ali, ranger in Nilphamari office of forest department, said only 13 of the 65 sawmills operating in Sadar upazila got valid licenses a few years ago.
Even those 13 did not renew the licenses for last couple of years, he said.
Monayem Hossen, in charge officer of Jaldhaka, Kishoreganj and Saidpur upazila forest offices, said, "There are 82 sawmills in the three upazilas and none has valid license although my office sent notice to the owners repeatedly.
"The license fee for a sawmill is only Tk 2000. Its Vat fee is Tk 300 while the yearly renewal fee is Tk 500. Despite fixing such small amounts as fees, the sawmill owners hardly respond to our calls," he said.
Sahidur Rahman, in-charge of Domar forest range, said, "None of the 59 sawmills in Domar and Dimla upazilas has license. We've submitted their list to higher authority for action."
"Only nine of the sawmill owners applied for license and investigation is on to find their eligibility. The law for awarding jail for operating any sawmill without license is hardly enforced as many of the offenders are blessed by politically influential people," he added.