Advance train ticket sale for Eid trips begins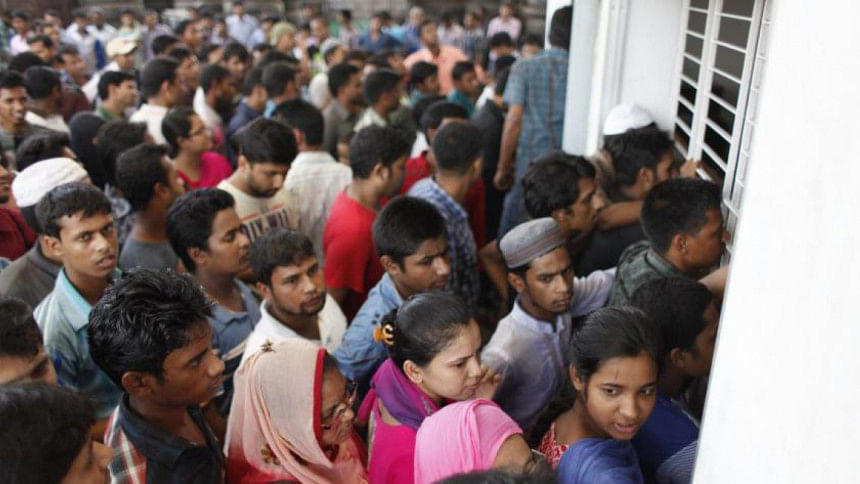 -Tickets for July 13-17 will be available from July 9-13
-July 20, 21 return tickets will be available on July 16, 17; July 22-23's tickets on July 19, July 24's ones on July 20
-One can buy maximum four tickets
-25% of total tickets will be sold online
Bangladesh Railway today started selling advance train tickets to ensure hassle-free journey for Eid-ul-Fitr holidaymakers.
Like every year, holidaymakers gathered from Wednesday night at Kamalapur railway station to buy tickets. The queues became longer after Sehri.
The railway authorities started selling tickets around 9:00am for July 13. The tickets for July 14-17 will be sold from July 10 to 13 at Kamalapur and Chittagong railway stations, said railway officials.
Return tickets for July 20 and 21 will be available on July 16 and 17. Tickets for July 22-23 will go on sale on July 19, while the ones for July 24 on July 20.
The Eid is expected on July 18 and all the ticket outlets will remain closed that day.
Return tickets will also be available at Rajshahi, Khulna, Rangpur, Dinajpur and Lalmonirhat railway stations.
A person will be able to buy maximum four tickets.
Of the total tickets, 25 percent will be sold online.
Around 40,000 tickets will be put up for sale daily in advance at Kamalapur Railway Station, said railway officials.
The authorities will include 169 additional passenger coaches in the service to cope with the Eid rush.
Besides, five additional special trains will be added daily to the existing 64 trains in Dhaka.
Railway ministry officials claimed that on average around 1.80 lakh people travel by train across the country every day. Because of the additional arrangement, the railway's daily capacity of carrying passengers will be increased to around 2.50 lakh.