Acute noise pollution by EPZ leather factory
Educational activities at Sonarai Sangalshi Degree College are being seriously hampered due to excessive sound of a giant electric generator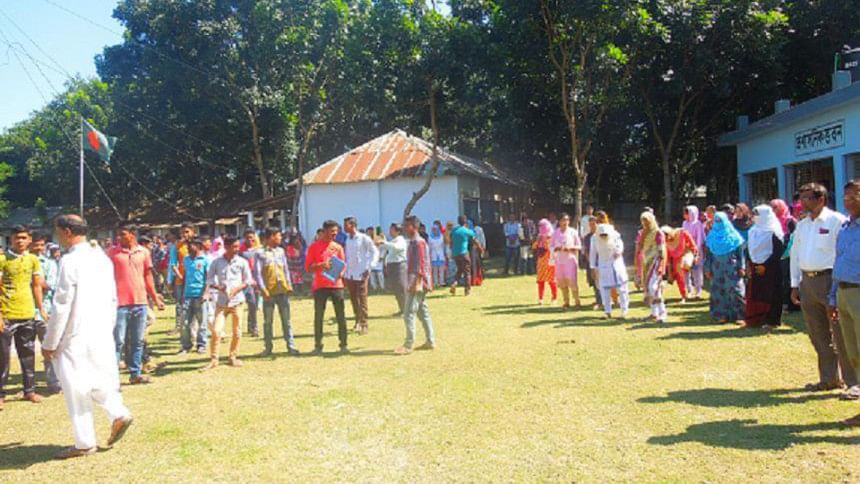 Educational activities at Sonarai Sangalshi Degree College in Nilphamari Sadar upazila are being seriously hampered due to the excessive sound of a giant electric generator of a leather factory at Uttara Export Processing Zone (EPZ).
The loud sound coming from a Hong Kong based leather factory Ventura Leather Industries (BD) Limited has been causing serious sound pollution and also posing health hazards to the students and teachers of the institution for long.
Seeking relief from the sound pollution, the college authority submitted several petitions to the head of administration of the factory and general manager (GM) of EPZ on a number of occasions in the last one year but the situation remains unchanged.
Visiting the college on Monday, this correspondent saw students and teachers crowding at the college playground as the factory, situated within 100 yards of the institution, was running the generator with unbearable sound.
Principal of the college Abdul Mazid said nearly 1000 students and 38 teachers of the institution cannot stay long in the classrooms as the factory runs the giant generator three to four hours during class hours everyday.
Some students and teachers are already facing hearing problem, besides, severe headache has become a common phenomenon, the principal said.
Students Mohammad Sohag, Manik Hossain and Luthfa Begum said that they cannot follow their lessons due to the sound of the generator, while many complained abut headache, palpitation and hearing problems.
Momtazul Islam, president of the college governing body, said they have submitted separate petitions to the factory authority and general manager of EPZ with recommendation from Cultural Affairs Minister Asaduzzaman Noor, also local lawmaker, but the authorities concerned did not pay heed to their demand.
The allegation by the college authority is not true, Saiful Islam, head of Human Resources Department of the factory, said, adding that they run the generator only during load shedding.