700 migrants rescued off Indonesia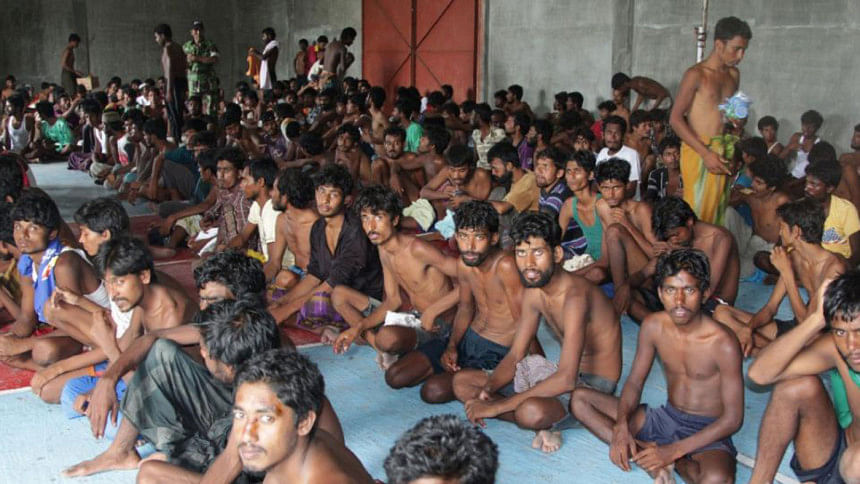 Another 700 Rohingya and Bangladeshi migrants were rescued off Indonesia on Friday, police said, as Myanmar undermined calls for a coordinated response to the human-trafficking crisis by threatening to boycott a planned Southeast Asian summit.
Indonesian police said passengers aboard the latest vessel seeking safe harbour in the region recounted how their boat sank off the country's coast after earlier being driven away by Malaysia.
Activists estimate up to 8,000 migrants are at sea in Southeast Asia.
But the decision by Indonesia, Malaysia and Thailand to turn away stricken boats filled with starving Bangladeshis and ethnic Rohingya from Myanmar has been met with outrage, including from the US and UN.
"According to initial information we got from them they were pushed away by the Malaysian navy to the border of Indonesian waters," said Sunarya, police chief in the city of Langsa in Aceh province, where the migrants arrived.
The boat was sinking but Indonesian fishermen ferried them to shore, he said. Nearly 1,300 migrants are already sheltering in Aceh after fetching ashore in recent days.
Earlier Friday, another boat carrying about 300 Rohingya -- a persecuted Muslim minority in Myanmar -- left Thailand's waters, a Thai official said, after authorities repaired its engine and provided some food.
The boat's passengers included many children and women who wept as they begged for food and water, after arriving near the southern Thai island of Koh Lipe on Thursday.
They told a boatload of journalists of a grim two-month odyssey in which 10 passengers had died of starvation or illness and were tossed overboard.
"We haven't had anything to eat for a week, there is nowhere to sleep... my children are sick," said Sajida, 27, a Rohingya who was travelling with her four young children.
Many of the migrants are now feared to be stranded at sea after a Thai police crackdown threw busy people-smuggling routes into chaos.
Thailand has announced a regional meeting on the crisis for May 29. But Myanmar -- which refuses citizenship to its Rohingya minority -- indicated it would stay away.
"We are unlikely to attend... we do not accept it if they (Thailand) are inviting us just to ease the pressure they are facing," presidential office director Zaw Htay told AFP.
Malaysian Deputy Home Minister Wan Junaidi Tuanku Jaafar on Thursday blamed Myanmar and Bangladesh for the crisis, chastising Yangon in particular for "the way they treat the Rohingya people".
The Bangladeshis are thought mainly to be economic migrants escaping their country's grinding poverty.
But the Muslim Rohingya flee by the thousands each year to escape state-sanctioned discrimination in Buddhist-majority Myanmar and recent sectarian violence against them.
There are more than a million Rohingya living in Myanmar's western state of Rakhine, many going back generations, but Myanmar insists they are illegal immigrants from Bangladesh.