5 'JMB men' held over pastor murder attempt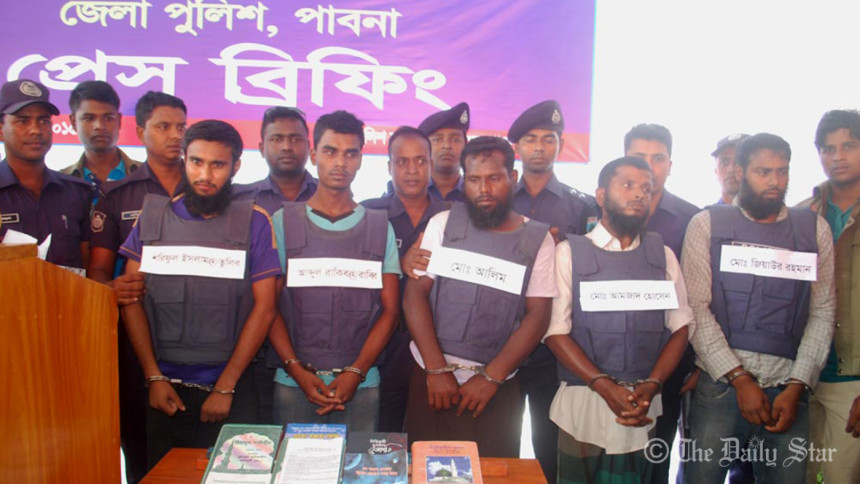 - They confess to plots of instability
- One among 5 is the regional chief of Pabna
- They thought of targeting foreigners
Five alleged members of banned Jama'atul Mujahideen Bangladesh (JMB) including its Pabna chief have been arrested over the murder attempt on Pastor Luke Sarkar.
Those detained were identified as Rakibul Islam, the Pabna regional chief, Ziaur Rahman, 34, Amzad Hossain, 30, Shariful Islam Tulip and Abdul Ali, our local correspondent reports.
All of them hailed from Pabna Sadar upazila except for Amzad who was from Sirajganj's Ullapara.
They were held in crackdown through Pabna district in the last few days, said Alamgir Kabir, police superintendent of the district. "They are all active members of JMB".
Huge amount of jihadi books were said to be seized from their possession during arrest.
Luke Sarkar, 52, pastor of Faith Bible Church, escaped an attempt on his life when unidentified youths tried to slit his throat at his house in the district's Ishwardi upazila on October 5.
READ MORE: Pastor escapes an attempt on his life
The youths however fled when Luke cried out for help. A motorcycle left behind was the only distinct clue law enforcers could gather from the spot.
The incident took place in the backdrop of two foreign nationals – an Italian and a Japanese – being murdered in the country. The killers are yet to be traced down.
These arrested JMB militants had plots to target foreigners as well, SP Alamgir claimed. "But they chose Pastor Luke. They confessed their involvement in plots to stir up instability in the country".