5 Bangladeshis trapped under debris in Malaysia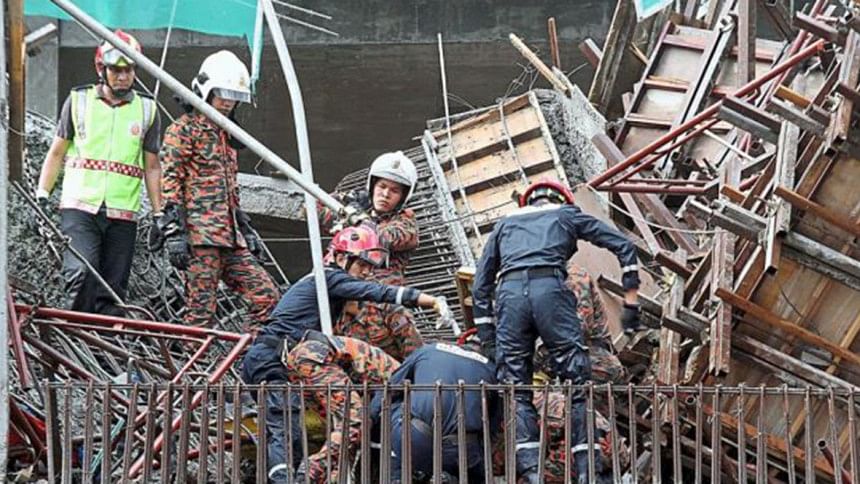 At least five Bangladeshi workers were trapped under rubbles after the fourth floor of an under construction building collapsed in Malaysia this morning.
The incident was occurred at Petaling Jaya district in the state of Selangor to the west of Kuala Lumpur, reports Malaysian daily The Star Online.
Selangor Fire and Rescue Department Operations Officer Mustakim Rimon said the victims comprised five Bangladeshis and an Indonesian in their 30s.
"When the incident happened, the six workers were carrying out construction work on the fourth floor of the building. One of the victims, who was severely injured, was brought out by rescue personnel, two others were saved by their friends while the other three managed to save themselves," he told local reporters.
Mustakim said all the victims were taken to the University Malaya Medical Centre for treatment and the cause of the incident was still being investigated.
The construction work has been temporarily suspended. Mustakim said the department received an emergency call at 9.56am and arrived four minutes later.
Meanwhile, a witness, Kamal Hussain, 40, said he and his friends rushed to the construction site when they heard of the mishap.
"We arrived to see several people trapped under concrete slabs," he said.
Meanwhile, officials at Bangladesh High Commission in Kuala Lumpur are still unaware of the incident.
"We couldn't reach the victims yet. We are now contacting with the authorities to collect details about the incident," Sayedul Islam, Labour Counsellor at the high commission told The Daily Star over phone in the afternoon.
Around 4,00,000 lakh Bangladeshis are working in different sectors in Malaysia legally. Most of them are construction workers who often face work-place accidents.