4 Sundarbans 'robbers' killed in 'gunfight'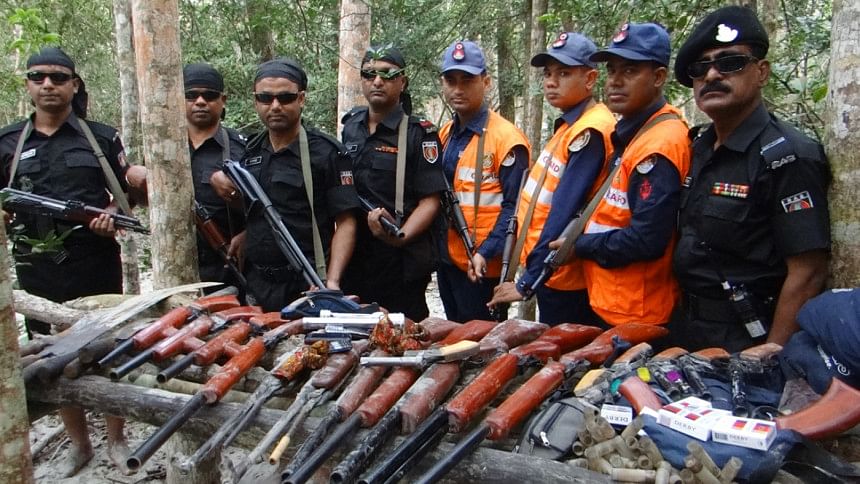 Four alleged robbers were killed in what lawmen described as gunfight during a joint crackdown of Rapid Action Battalion (Rab) and Bangladesh Coast Guard in the Sundarbans today.
The deceased were identified to the media as Monir, 35, chief of one Noyon Bahini, and his three associates Enam, Hassan and Gias, our Bagerhat Correspondent reports.
The "gunfight" took place in the Saronkhola range of the mangrove forest in Bagerhat district around 6:30am, described Lt Col Faridul Alam, commanding officer of Rab-8.
"Nineteen fishermen were abducted from Barguna's Patharghata area a few days ago. We received intelligence that they were being held hostage by the Noyon Bahini."
Tipped off, joint team of Rab and Coast Guard cracked down on Chandeshwar area of the Kochikhali sanctuary. Sensing presence of law enforcers the "robbers" opened gunfire. The law enforcers retaliated with gunfire.
After the 40-minute "gunfight" subsided, the four "robbers" were found dead on the spot, CO Lt Col Farid said. Eighteen firearms that included single and double barrel guns, sawed rifles and 450 bullets were recovered from the spot.
The bodies were being taken to a Saronkhola Police Station.