4 fishing cat kittens released to wild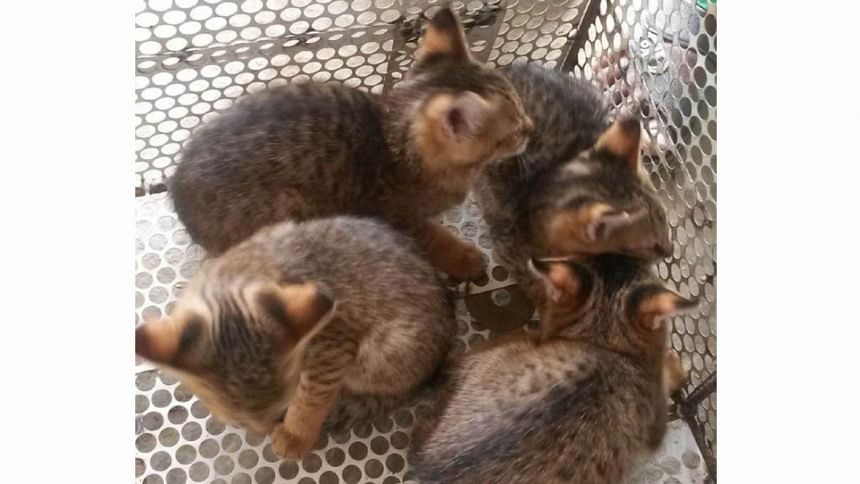 The forest department officials released four endangered fishing cat kittens to
Mulagul
forest in Kanaighat
upazila
of Sylhet on Saturday afternoon, following their rescue from a human habitation earlier
on
the day.
"The three-month-old kittens were rescued near the house of local union parishad member Bashir Uddin on Saturday morning. After hearing the matter, people thronged the spot, said Md Shahidul Islam, beat officer of Mulagul forest.
Fishing cats feed on fish, frogs and aquatic birds, and they have a unique way of capturing their prey for meals, said Divisional Forest Officer (wildlife) Mihir Kumar Doe.
Fishing cats are native to India and Southeast Asia but they are vanishing from riverbanks due to water pollution and poaching, he said.
These cats are listed as vulnerable on the Red List of International Union for Conservation of Nature and Natural Resources, he added.
Ashraful Kabir, chief coordinator of Bhumi Sontan Bangladesh, an initiative for wildlife rights, said fishing cat is a medium-sized wild cat, living mostly in the vicinity of wetlands, along rivers, streams, oxbow lakes, swamps and mangroves.
Wild animals mostly come out from the jungle at night for food, he added.
Scientific name of fishing cat is prionailurus viverrinus.