Man kills son, 3 others in Joypurhat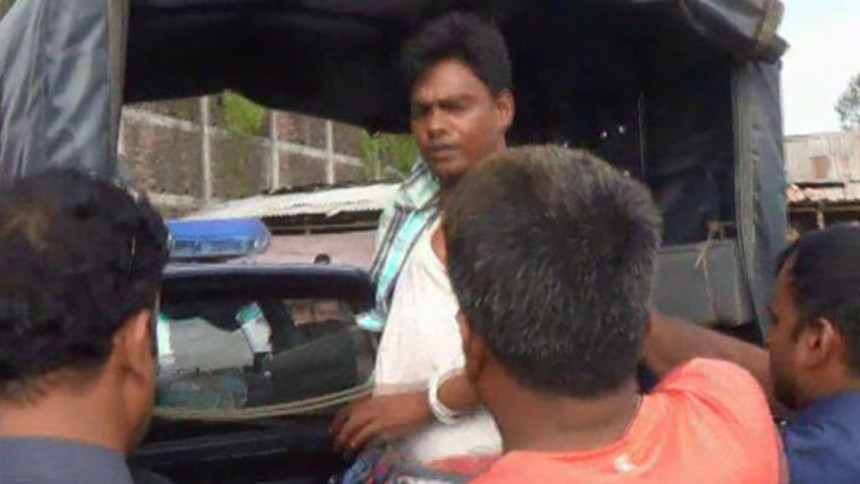 An indigenous man allegedly stabbed to death his six-year-old son and three members of his in-law's family in Panchbibi upazila of Joypurhat early today.
Locals caught the alleged killer, Sumon Hebram, 35, son of Nabin Hebram of Nawana village in Panchbibi upazila of Joypurhat, and handed him to Panchbibi police.
The attack that took place at Bhimpur Adivasi Palli also left Sumon's wife Silvia Husda injured, reports our Dinajpur correspondent.
The deceased are Sumon's son Sunny Hebram, mother-in-law Sandhya Rani Hasda, 45, sister-in-law Tereja Mardi, 23, and aunt-in-law Markel Mardi, 50.
On information, police recovered the four bodies and sent those to Joypurhat Modern Hospital morgue for autopsy.
Locals rescued Silvia Husda and rushed her to the hospital.
Sumon made the attack following a conflict with his in-laws over "an extra marital affairs" of his wife, Belayet Hossain, assistant superintendent of police of Joypurhat, said quoting Sumon.
Sumon had been staying at his in-law house since he got married to Silvia seven years back.
But one year back, he came to know about the extra-marital affairs of his wife and informed it to his mother-in-law, Sumon told police adding that his in-laws did not take any action against Silvia.
Around 4.00am today, Sumon locked into quarrel with his wife and in-laws over the issue.
All of a sudden, Sumon started stabbing all the members of the house including his son and wife indiscriminately, leaving the four dead on the spot.
Police recovered the sharp weapons used for the killing.