4 Bangladeshi militants charged with Burdwan blast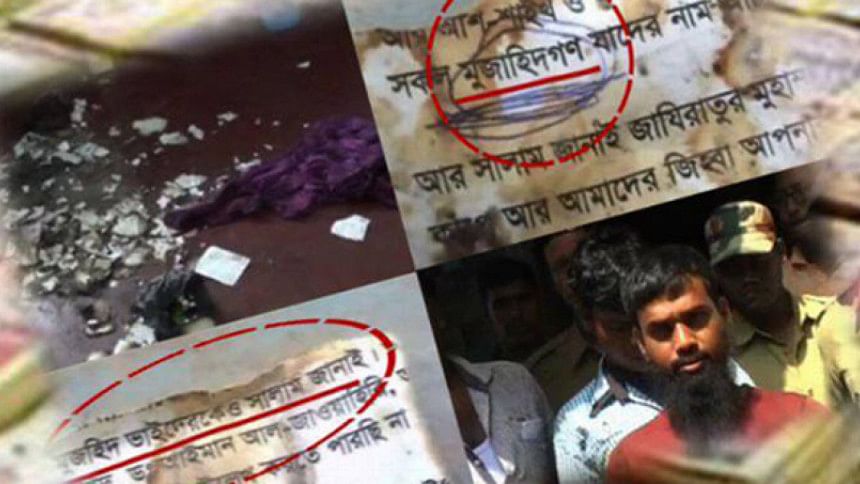 Indian police charged 21 accused including four Bangladeshi militants of banned outfit Jama'atul Mujahideen Bangladesh (JMB) today in the Burdwan blast case of Kolkata.
The charge-sheet, placed to a special Kolkata court, cited that the militants were trying to overthrow the existing democratic government in Bangladesh and establish Sharia rule.
JMB's activities in India primarily included recruitment, radicalisation and training of vulnerable youths in a systematic and organised manner, the charge-sheet said.
The Bangladeshis are Sheikh Rahamatullah (19) alias Sajid alias Burhan Sekh, Talha Sheikh (20) alias Talha Sekh, Kausar (21) and Nasirullah alias Nasrulla alias Sahadat Seikh alias Sohail alias Hathkata – all residents of West Bengal, reports our New Delhi correspondent.
Rahamatullah is currently in prison arrested by the NIA and others are on the run.
On October 2 last year, an explosion in a rented house of Khagagarh locality of Burdwan town of Kolkata killed two people – Sakil Gazi, a Bangladeshi who is the mastermind of a bomb-making module of JMB, and his associate Karim Sheikh, said the charge sheet.
A NIA team had visited Dhaka last year as part of its probe into the Burdwan blast and a team of security agencies of Bangladesh had come to Kolkata,  also last year.
The NIA said it seized huge volume of documents, explosives, ammunition and other materials across Kolkata in about a hundred crackdowns and questioned over 250 witnesses, Assam and Jharkhand during its course of investigation.