Ctg tanker wagon plunge threatens environment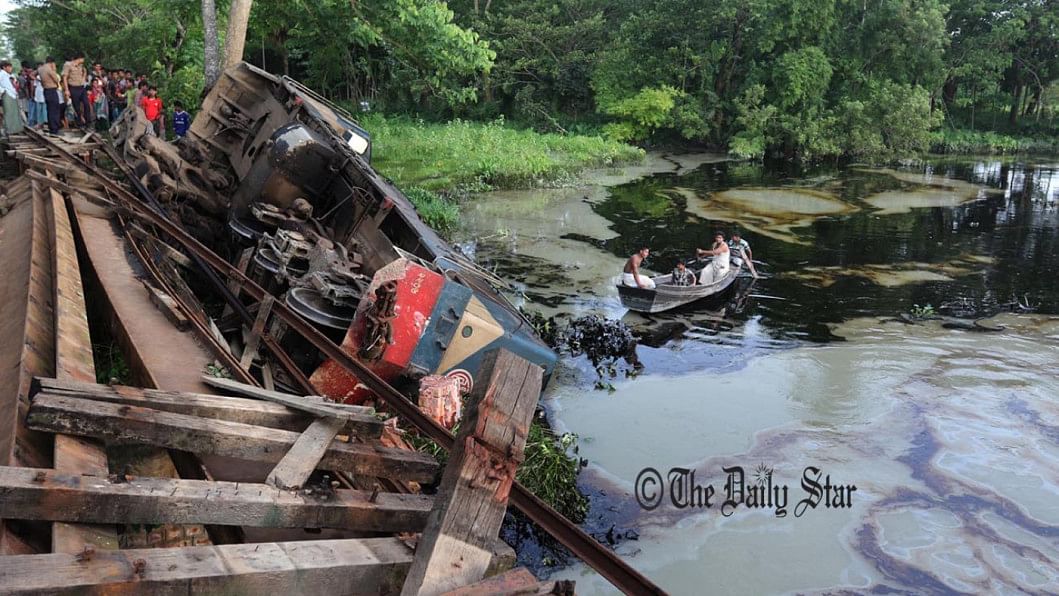 Four tanker wagons along with the locomotive of a furnaceoil-carrying train derailed in Boalkhali upazila of Chittagong this afternoon.
Three of the derailed oil-tanks plunged into the Boalkhali canal following the collapse of a railway bridge on the canal in Kitabchar area.
Oil was spilling from the derailed tanks, posinga threat to the environment, reports our Chittagong correspondent.
The oil spills from the tanks may be a threat for the River Karnaphuli, around 10km to 12km off the spot, and its biodiversity as the canal water flows to the river.
The train was carrying furnace oil for Dohazari Peaking Power Plant from the port city of Chittagong. Railway sources said each of the tanks containedsome 24 tonnes of furnace oil.
On the spot, chunk of oil spill was seen floating in the canal and was spreading to the adjacent areas and also entering into nearby -- okra, arum and peeper fields.
Md Abu Syed, a local farmer, apprehended that his okra garden might be affected due to the oil spills.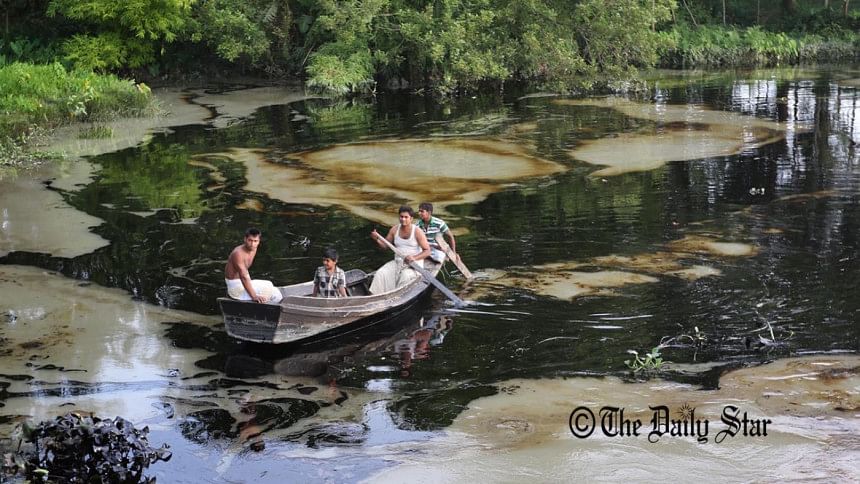 Abul Kashem, a local fisherman, said fishes may die by impact of the oil spills.
Environment activist Muhammad Edris Ali, who is an associate chemistry professor at Mohsin College, told The Daily Star that the layer of the furnace oil in the canal will affect the ecosystem and food-chain of flora and fauna.
Due to the floating oil, there will be shortage of dissolved oxygen in the water, he said, adding fishes will either die or migrate from the region.
Md Mozammel Haque, general manger of Railway's East Zone,expected to salvage the derailed tanks by Sunday.
The Railway authorities formed two separate committees to investigate the incident, asking them to submit reports within three working days, according to the railway sources.
The authorities also suspended Assistant Executive Engineer Abdul Halim and Senior Sub-Assistant Engineer Akbar Ahmed Ferdous in this connection, said Chittagong Divisional Railway Manager Md Mafizur Rahman.
In the incident, the Loco Master and Assistant Loco Master of the train were also injured.