Lightning takes 17 more lives in 11 districts
49 people killed so far in two days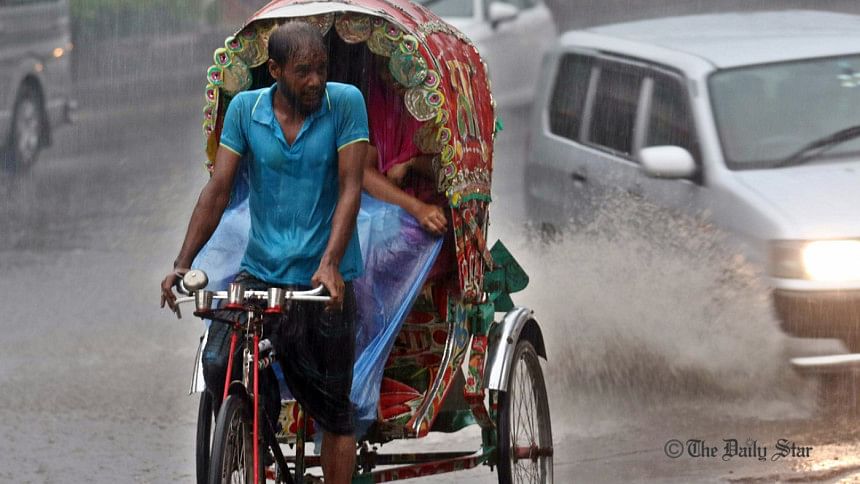 At least 17 people were killed after being struck by lightning during the storm at different parts of the country, raising the death toll from such incidents to 49 in two days.
Three people were killed in Rajbari while two each in Dhaka, Tangail, Naogaon and Sunamganj, and one each in Chittagong, Joypurhat, Kurigram, Gaibandha, Chandpur, Kishoreganj.
A total of 32 were killed and six others injured in separate incidents of lightning strikes in the capital and 10 districts yesterday.
In Chittagong, Amjad Hossain, 25, was struck by lightning while he was standing on a road in Halishahar area of the port city around 11:30am, reports our Chittagong correspondent.
Locals rushed the victim to Chittagong Medical College Hospital where doctors declared him dead, said Abdul Hamid, Nayek of the hospital's police camp.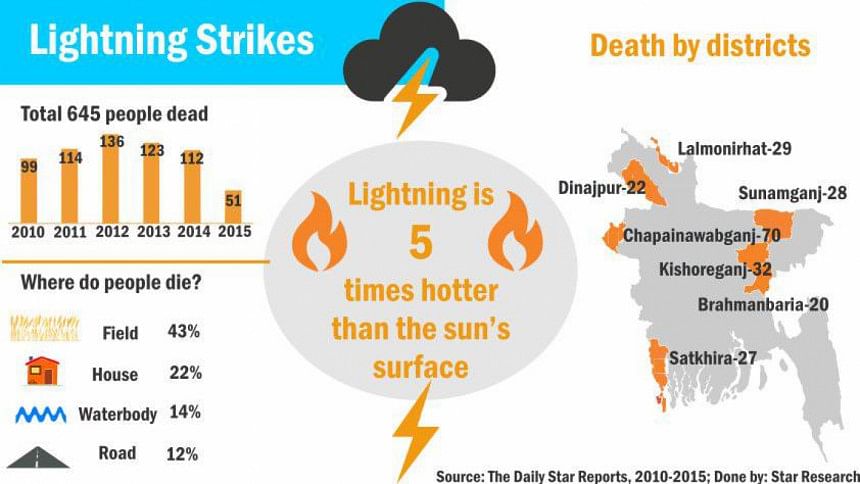 In Tangail, Anisur Rahman, 14, and Lima Akter, 13, of Tangail, students of two local high schools, were killed while working on their house yard at 10:30am, reports our correspondent.
In Joypurhat, Manik Hossain, 35, son of Asaduzzaman of Ghugail village of Khetlal upazila, was killed on the spot as a thunderbolt struck him while he was working on a paddy field at around 11:00am.
In Naogaon, Ibrahim Hossain, a teenage boy of Nitpur-Dighipara village of Porsha upazila, was killed on the spot as a thunderbolt struck him while he went out of home to collect dropout mangos in the morning.
In another incident, Shachin Muhari, 30, a farmer of Dhanjoil village of Mahadevpur upazila, was killed on the spot when he was harvesting paddy field around 10:45am.
In Kurigram, Rafiqul Islam, 33, son of Ismail Hossain, of Nageswar upazila, died on the spot while cutting paddy at Sotighata village.
In Gaibandha, Sirajul Islam, 60, died on the spot after being struck by the lightning while he was working on a crop field in Khord Malibari Purbapara in Sadar upazila, reports UNB.
In Dhaka, Montu Miah, 19, died as a thunderbolt struck him while playing football with friends at Chayabithi Baluramath School field in Savar at 12noon.
In Dhamrai, Monir Hossain, 14, died as a thunderbolt struck him in Basta area of Dhamrai.
In Kishoreganj, Amran Mia, 28, of Kendua upazila of Netrakona, was struck by lightning at Nayapara of Tarail upazila in Kishoreganj as he went to his father-in-law's house there, said Asaduzzaman Mabin, chairman of Dhala Union Parishad.
He succumbed at Tarail Upazila Health Complex around 12:45pm, said a Kishoreganj correspondent reports quoting the chairman.
Manik Hossain, 28, of Joypurhat; Ibrahim Hossain, 13, Shachin Muhari, 30, of Naogaon; Rafiqul Islam, 33, of Kurigram; and.
In Rajabri, two farmers -- Billal Hossain, 40, of Harinbaria, Zaher Ali, 45, of Bhagolpur in Kalukhali – were killed by lightning while Sobhan Sarderm, 50, was killed in Uzzalpur char area of Goalondo upazila.
In Sunamganj, Amir Uddin, 30, of Kamarkhal village in Jagannathpur upazila was killed after being struck by thunderbolt when he was collecting paddy around 7:00am.
READ MORE: Lightning kills 32 across country
Abdus Samad, 13, of Bagmaina village, was killed in the lightning when he was going to a nearby village, our Moulvibazar correspondent reports quoting Mohammad Mursalin, officer-in-charge of Jagannathpur Police Station.  
In Chandpur, Nabir Hossain, 25, a labour, died after struck by lightning on trawler at Meghna river around 2:00pm, our Chandpur correspondent reports quoting Belayat Hossain Khan, residential doctor of Chandpur General Hospital.  
Every year at least 117 people get killed by lightning strikes, according to reports published in The Daily Star between January 2010, and May 2015. The actual number is much higher since many incidents go unreported.