4 bodies found five days into trawler capsize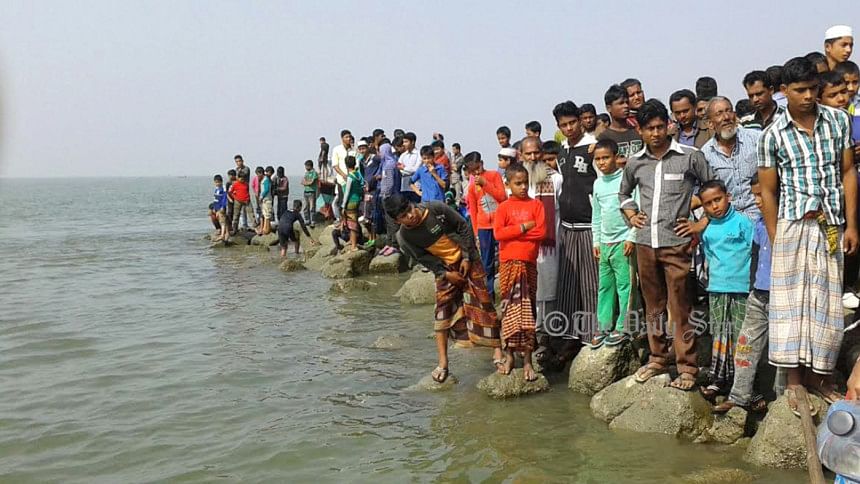 Police today recovered the bodies of four people – three children and a woman – and salvaged a trawler five days after it capsized in the Meghna river in Chandpur.
The trawler was pulled out of water around 6:30pm, reports our Chandpur correspondent.
The deceased were identified as Aleya Begum, 26, her three-year-old daughter Swarna, Manik, 4, son of Mostafa Mridha, and one-and-a-half-year-old Fahim Hossain, son of Jamal Hossain Liton of Charbgula area in Haimchar upazila.
At least nine people, including six children, went missing as a trawler sank after being hit by an oil-laden vessel in the upazila due to the dense fog on Monday.
Informed by local fishermen, the law enforcers recovered the body of Fahim from Hizla area in the morning while Manik's body from Sahebganj area in the upazila, Wali Ullah, officer-in-charge of Haimchar Police Station, told our Chandpur correspondent.
Many of the passengers managed to swim ashore after the incident, said Nur Hossain Patwari, chairman of the upazila.
Four of the five people who still remain unaccounted for are: Nargis, 28, her daughter Shahjadi, 6; Aleya Begum's son Siam, 6; and Mostafa Mridha's son Ratan, 2.
Police and locals are carrying out a search operation.