Gang-rape victim lured with better job: Rab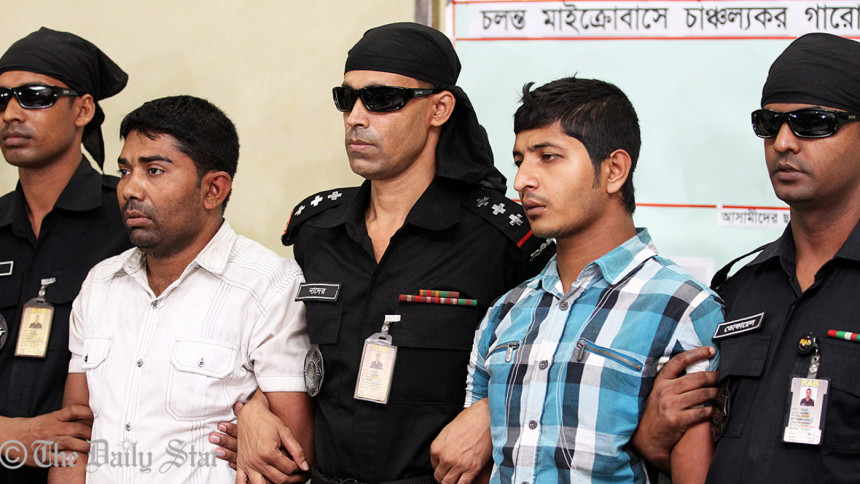 The 21-year-old Garo woman, who was gang-raped on running microbus in Dhaka, was lured by the promise of a better job.
Mufti Mahmud Khan, director at Legal and Media Wing of Rab, said this at a press briefing after the elite force arrested two people -- Tusher, 35 and Lavlu 26 -- in connection of the sensational incident.  
Police also seized the microbus from Banani.
Tusher, the mastermind of the incident, was arrested from Patuakhali around 1:00am while Lavlu, driver of the microbus, from Dhaka 5:00am, the Rab officer told the briefing its Uttara headquarters in Dhaka
It was a pre-planned act, the Rab official said adding both the arrestees confessed to their involvement with the incident.
Tusher came in contact with the rape victim on May 17 at a shop in Jamuna Future Park's outlet where she was working as a salesgirl, the Rab official said.
He took the cell phone number of the woman and later talked to each other over phone and offered her a better job at a buying house with high salary, he added.
"On that night, Tusher called the woman and told her to bring her resume after office hour. Tusher and the driver were waiting for her."
The woman left the office hesitantly. She was waiting for a bus for her Uttara resident around 9:30pm."
"Tusher went there and asked her whether she recognised him. After she said she did, Tusher offered her to give a lift at her home in Uttara. Then he pulled her into the microbus and drove away."