10 Hindu devotees killed in N'ganj stampede
At least 10 Hindu devotees were killed in a stampede at the venue of the Astami Snan, a Hindu religious ritual, in Bandar upazila of Narayanganj, local police confirm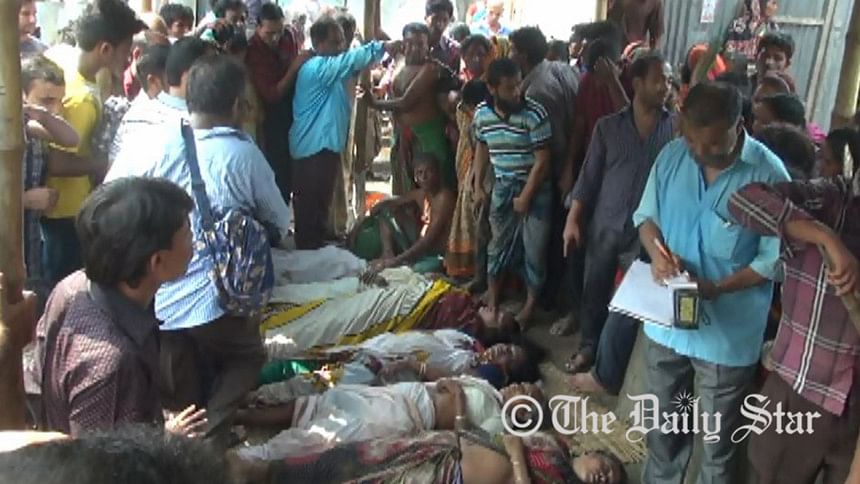 At least 10 devotees were killed and 20 others injured in a stampede at the venue of the Astami Snan, a Hindu religious ritual, in Bandar upazila of Narayanganj this morning.
          - Govt to compensate Tk 25,000 for each family
          - PM Sheikh Hasina mourns, extends solidarity
          - 3-member probe committee formed
The victims were seven women and three men who thronged the Rajghat point at the banks of old Brahmaputra river, our Narayanganj correspondent reports quoting local sources.
The names of the victims were primarily obtained as Suchita Rani, 70, Bhanu Mati, 50, Rahi, 28, Kanan Shah, 50, Maloti, 60, Tulshi Debnath, 50, Bhagabati, 40, Ranjit Chandra, 55, Nukul Chandra, 55, and Nitai, 50.
The injured were admitted to different local hospitals and clinics.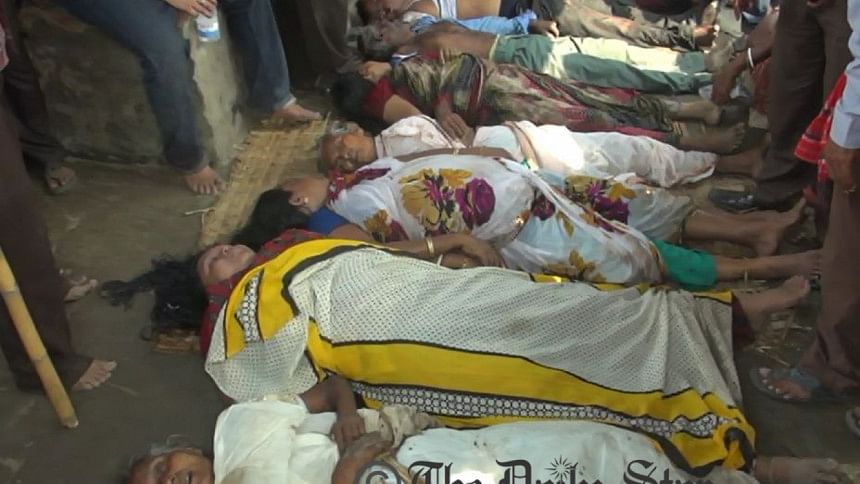 Nazrul Islam, officer-in-charge of Bandar Police Station, told The Daily Star Online that the incident took place during one of the biggest Hindu ritual today around 9:00am.
Devotees alleged that the incident took place following mismanagement and a rumour that a bridge near the spot has collapsed.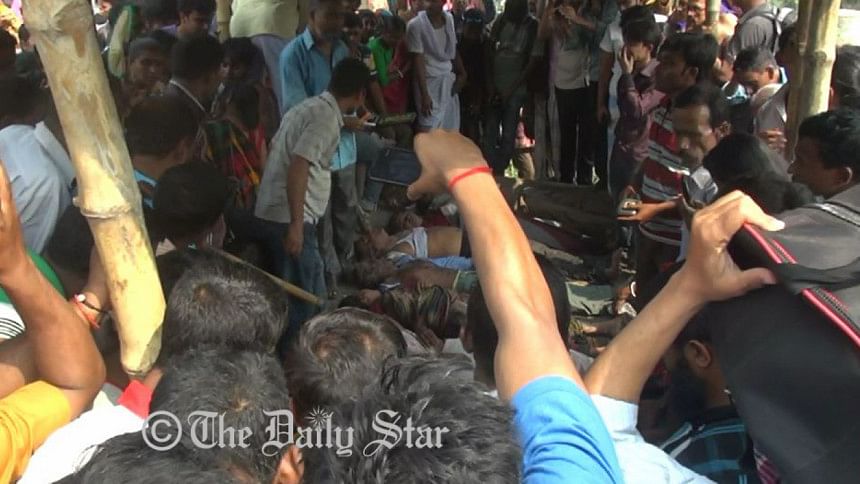 Narayanganj Deputy Commissioner Anisur Rahman said the incident happened because of heavy pressure of devotees despite all-out preparation of security taken by the authorities concerned.
A three-member committee has been formed to investigate the incident, he added.
Deputy Inspector General of Police Mohammad Shafique, Additional Deputy Inspector General of Police Faruque and other police high-ups visited the spot, the OC said.
A total of 15 points were designated for the Astami Snan today, where devotees bathe in the waters of Brahmaputra and seek divine blessings.
Anisur Rahman made an announcement to compensate Tk 25,000 for the victims' families on behalf of the local administration.
British High Commissioner to Bangladesh Robert W Gibson tweeted extending his condolences to the families of the deceased.
Every year in the Bengali month of Chaitra, Hindu devotees flock to the holy place on the banks of the Brahmaputra River to celebrate Astami Snan. It is a holy bathing ritual that is believed to cleanse away the sins and distresses of the devotees.