Mission Save Bangladesh: Brands come forward for a noble cause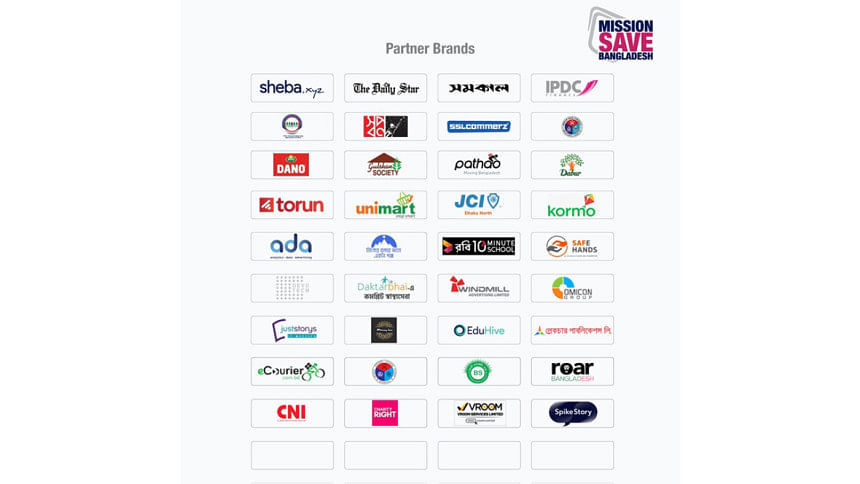 Mission Save Bangladesh, the joint initiative by The Daily Star, Sheba.xyz, and Samakal, has received backing from more brands which came forward with their financial and strategic support.
At a time when the government is taking preventive measures to tackle the deadly coronavirus (Covid-19), people have had to isolate themselves in their own homes and as a result many day-to-day wage earners are facing an uphill battle to maintain their livelihoods.
So far, Mission Save Bangladesh has received donations amounting to Tk 30,39,979 from different private organisations and NGOs, with which the initiative will be supporting more than 2,000 underprivileged families.
Besides providing the families with groceries, Mission Save Bangladesh has also been carrying out community-based activities like disinfecting public places. 
IPDC Finance Ltd, Safe Hands, PFDA, Unimart, Shwapno, Arla Dano, SSL Commerz, Arla Foods , Gulshan Society, Pathao, Dabur Bangladesh , Torun Digital , JCI Dhaka North, JCI Dhaka South, Kormo, Robi 10 Minute School, Devotech, Daktarbhai, ADA, Nijer Bolar Moto Ekta Golpo, Windmill Advertising Ltd, Omicon Group, Just Storys, Eduhive, Lecture Publications, eCourier, CNI, Charity Right, Vroom, Roar Bangladesh, Spikestory, Paperfly, Bongo, Masthead PR, Smartifier Academy, and a number of other brands have joined this journey of philanthropy.
More brands are expected to join Mission Save Bangladesh for the cause of supporting over a million families and helping out a larger group of people over the next few days.