Zero tolerance to terrorism, PM tells Tripura Minister
Electricity to flow into Bangladesh from Tripura soon, says Manik Dey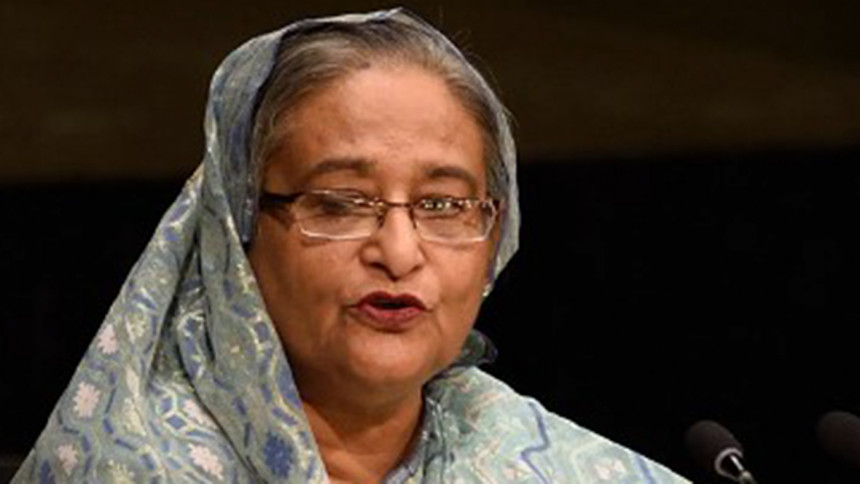 Prime Minister Sheikh Hasina on Sunday reiterated her government's stance of zero tolerance to terrorism and said no one would be allowed to use Bangladesh's soil for insurgent acts against any country.
The prime minister made the remarks when visiting Minister for Power, Urban and Rural Development and Transport of the Indian State of Tripura Manik Dey met her at her official residence Gonobhaban.
After the meeting, prime minister's Press Secretary Ihsanul Karim briefed reporters.
He said the prime minister expressed happiness to know that Bangladesh and India finalised tariff and other issues on import of 100-MW of electricity by Bangladesh from Tripura.
She hoped that both sides will also complete the remaining formalities on power purchase and supply at the earliest time to start the electricity supply.
Sheikh Hasina mentioned that Bangladesh needs more power to meet the country's growing demand.
Referring to enclave exchange, the prime minister said the issue has been settled in a peaceful manner.
Bangladesh is now the most attractive destination of investment and her government has undertaken steps to establish 100 economic zones to enhance business and investment in the country, she said.
Hasina also referred to the setting up of border haats in many places across the border with India saying such move is playing a significant role in boosting bilateral trade.
Putting emphasis on connectivity, she said, Bangladesh wants to reopen rail routes connecting Bangladesh and India which remained closed since the 1965 war.
Sheikh Hasina said her government has taken initiatives to set up dual gauge rail tracks from Chittagong to Dhaka to make the rail communication more effective.
Highlighting the potentials of the Chittagong Sea Port, she said India could use the port.
The prime minister also recalled the support of India and its people during the Great War of liberation in 1971 and expressed gratitude to the then Prime minister, government and Indian people, particularly the state government and people of Tripura.
The Tripura minister highly appreciated Bangladesh's impressive success in socioeconomic field under Prime Minister Sheikh Hasina's dynamic leadership.
"Bangladesh has achieved unprecedented development in road connectivity," he said.
He recalled Sheikh Hasina's visit to Tripura in January 2012 and her speech at a rally in front of nearly one lakh people in Agartala.
Manik Dey also mentioned the Bangladesh prime minister's announcement of importing 100 megawatt electricity from Tripura from the rally. "The electricity supply (from Tripura) will start soon," he said.
The Tripura minister also said the state government is constructing a power plant at Monarchar in Tripura near Bangladesh's Comilla border.
State Minister for Power, Energy and Mineral Resources Nasrul Hamid Bipu, PM's Principal Secretary Md Abul Kalam Azad and Power Division Secretary Monwarul Islam were, among others, present.